Crazy Chilli Slot Review and Free Demo - Blueprint Gaming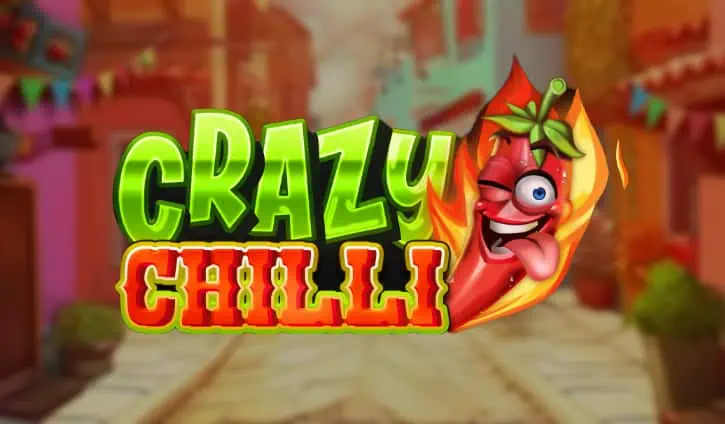 Play for Free
Best Casinos to Play Crazy Chilli and Win Real Money!
Immerse yourself in the exhilarating world of Crazy Chilli, expertly designed by Blueprint Gaming. Offering both captivating gameplay and bountiful rewards, it's a slot game you won't want to miss. Explore top casinos and enhance your chances of winning big!
18+
|
Gamble Responsibly
|
T&C's Apply
×
Bonus and Terms Conditions
Before enjoying welcome bonuses, read the terms in the site footer.
Play responsibly; click here for help.
18+
|
Gamble Responsibly
|
T&C's Apply
×
Bonus and Terms Conditions
Before enjoying welcome bonuses, read the terms in the site footer.
Play responsibly; click here for help.
Dive into the vibrant world of Crazy Chilli, a captivating online slot game by Blueprint Gaming. This game stands out with its lively Mexican theme, featuring a picturesque cobblestone street setting adorned with colorful flags, cacti, and vividly painted buildings. The accompanying music, though somewhat generic, complements the theme, creating an immersive experience for players. Crazy Chilli doesn't just impress with its visuals; it also offers a unique gaming experience.
Crazy Chilli is more than just a feast for the eyes; it's a playground for slot enthusiasts. The game operates on a 5-reel, 3-row grid with 10 paylines, offering a medium volatility gaming experience. With a maximum RTP of 95%, players can place bets ranging from 10 cents to $/€100 per spin. The slot features a mix of low and high pay symbols, including card ranks and thematic icons like cacti and tequila shots, with the potential for significant payouts. Additionally, the game boasts unique features like cash symbol collections, cashpot prizes, and multipliers in its free spins round, enhancing the thrill of the gameplay. For those eager to try before they bet, a free demo of Crazy Chilli is readily available, allowing players to experience these exciting features firsthand.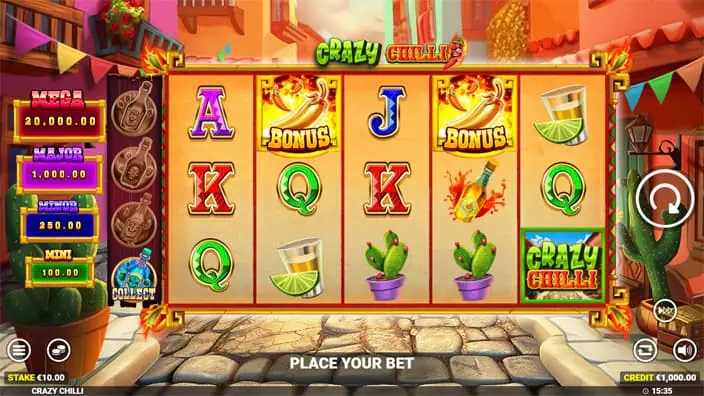 Blueprint Gaming: The Slot Provider Behind Crazy Chilli
Blueprint Gaming, a renowned slot provider in the online casino industry, has solidified its reputation through the creation of high-quality and engaging online slot games like Crazy Chilli. Known for their innovative approach, Blueprint Gaming consistently delivers captivating themes and immersive gameplay experiences to a global audience. Their commitment to developing slots that are not only entertaining but also fair and reliable is evident in games like Crazy Chilli. This dedication ensures that players enjoy a gaming experience that is both enjoyable and trustworthy, making Blueprint Gaming a standout name in the world of online slot games.
Crazy Chilli Slot Specifications: RTP, Volatility, Max Win & Theme
Crazy Chilli presents a classic slot game structure with a modern twist. It features a 5-reel, 3-row grid and operates on 10 paylines, offering players numerous ways to win. This setup provides a familiar yet dynamic gaming experience, appealing to both new and seasoned slot enthusiasts.

Crazy Chilli and Muertos Multiplier Megaways both celebrate Mexican culture such as the Day of the Dead, yet in distinct ways. Crazy Chilli offers a classic, vibrant Mexican street party vibe, while Muertos Multiplier Megaways introduces the dynamic Megaways mechanic for more varied gameplay. While Crazy Chilli is ideal for traditional slot play, Muertos Multiplier Megaways appeals to players seeking complexity with its expanding reels and multipliers.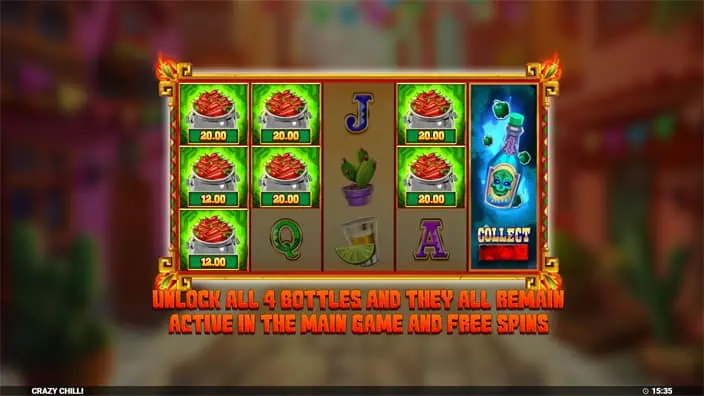 RTP (Return to Player)
Crazy Chilli boasts an RTP of 95%, striking a balance between entertainment and fair winning opportunities. This RTP percentage is a testament to the game's fairness, offering players a reasonable chance of returns. It makes Crazy Chilli an appealing choice for players who value a fair gaming experience alongside the thrill of slot play.
Volatility
Crazy Chilli falls into the medium volatility category, offering a balanced gameplay experience. This level of volatility means players can expect a mix of frequent smaller wins and the occasional larger payout. It caters to a wide range of players, from those who prefer a steady game to those who enjoy the excitement of significant wins.
Max Win
The maximum win potential in Crazy Chilli is an impressive …X the bet. For instance, a €1 bet could potentially lead to a significant payout, highlighting the game's high winning potential. This feature makes Crazy Chilli particularly attractive to players aiming for substantial wins while enjoying the vibrant gameplay.
Theme
Crazy Chilli is themed around a lively Mexican street festival, reminiscent of scenes from colorful and vibrant movies like 'Coco'. The game transports players to a festive world filled with bright colors, lively music, and a celebratory atmosphere, making it an engaging and immersive slot experience.
Exciting Features of Crazy Chilli Slot Explained
Crazy Chilli is packed with a variety of unique and exciting features that significantly enhance the gameplay experience. These features not only add an extra layer of excitement but also offer players increased chances of winning. This article will delve into the in-game features of Crazy Chilli, focusing on elements like special symbols, free spins, and unique bonuses that players can encounter during their spins.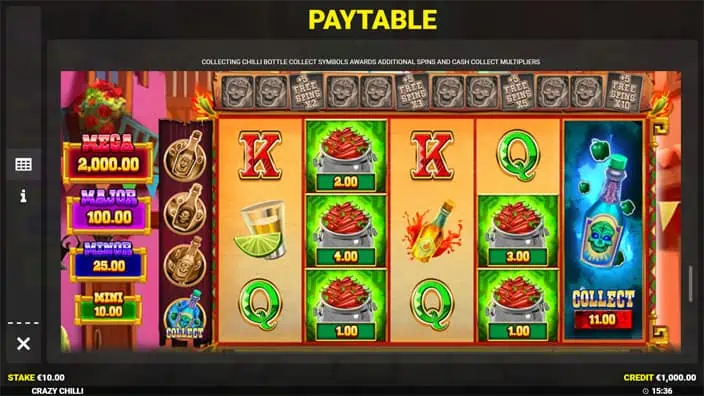 Cash Collect Feature
One of the standout features in Crazy Chilli is the Cash Collect mechanic. This feature involves cash symbols appearing on reels 1 to 4, and if a Chilli Bottle collect symbol lands on the rightmost reel, it expands to cover all positions on its reel and collects the values of any cash symbols in view. This innovative feature can significantly boost winnings and adds an exciting dynamic to every spin.
Super Spicy Free Spins
The Free Spins feature in Crazy Chilli is triggered by landing 3 scatter symbols on reels 2, 3, and 4, awarding 10 free spins. During these spins, the Cash Collect feature remains active, and Chilli Bottles collected on a meter can award additional multipliers and free spins. This feature not only extends the gameplay but also increases the potential for big wins.
Bonus Rounds
Crazy Chilli includes a series of bonus rounds linked to the Cash Collect feature. These are activated as different Chilli Bottle symbols are collected, each offering unique benefits like respins, cash boosts, and multipliers. These rounds add depth to the game, providing players with varied and engaging gameplay experiences.
Retrigger Mechanics
In Crazy Chilli, the Free Spins feature can be retriggered by collecting Chilli Bottles during the free spins. Each collection point not only awards extra spins but also increases the multiplier, enhancing the potential for larger wins and prolonging the excitement of the free spins round.
Additional Unique Features
Crazy Chilli also includes cashpot prizes, where cash symbols can possess values of up to 50 times the bet or even cashpot values like Mini, Minor, Major, or Mega, offering substantial winning opportunities. This feature adds an extra thrill to the gameplay, as players have the chance to win big with each spin.
These diverse features make Crazy Chilli a highly engaging and potentially rewarding slot game, offering players a variety of ways to win and enjoy their gaming experience.
Navigating Crazy Chilli: Understanding Paytables and Game Info Before You Play
Navigating the paytable and game information of Crazy Chilli is essential for any player looking to maximize their gaming experience. Understanding these elements not only enhances one's strategy but also adds to the overall enjoyment of the game. Being well-informed about Crazy Chilli's mechanics and features allows players to approach the game with a more strategic mindset, leading to a more fulfilling and potentially rewarding experience.
Decoding the Paytable
Crazy Chilli's paytable is a key to unlocking the game's potential. It details the value of each symbol, from the lower-paying card ranks to the higher-value thematic icons like cacti and tequila shots. Understanding how winning combinations are formed, especially in relation to the 10 paylines, is crucial. The paytable also sheds light on the significance of special symbols like Wilds and Scatters, which play pivotal roles in triggering bonus features and enhancing winning possibilities.
In-Depth Look at Game Features
The unique features of Crazy Chilli, such as the Cash Collect mechanic and the Super Spicy Free Spins, are integral to the game's appeal. These features not only add excitement but also directly interact with the paytable to influence potential payouts. For instance, the Cash Collect feature can significantly boost winnings by collecting values of cash symbols. Similarly, understanding how the Free Spins feature works, including how it can be retriggered and the role of multipliers, is vital for players to strategize their spins effectively. By comprehending how these features intertwine with the paytable, players can better navigate Crazy Chilli and enhance their chances of a rewarding play session.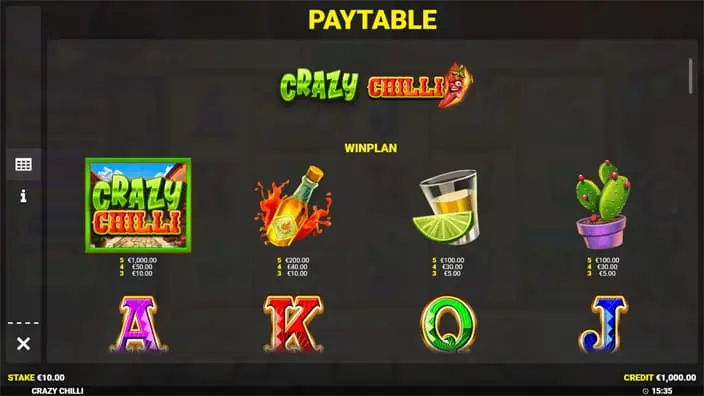 Comprehensive Review: Crazy Chilli Slot by Bonus Tiime
Crazy Chilli by Blueprint Gaming immerses players in a vibrant and colorful world that captures the essence of a lively Mexican street festival. The game's visual elements are a feast for the eyes, with a rich color scheme that includes bright reds, greens, and yellows, evoking the lively spirit of a fiesta. The overall atmosphere is further enhanced by upbeat music and sound effects, contributing to an engaging and immersive player experience.
Exploring the Theme
The theme of Crazy Chilli is brought to life through its detailed symbols and background. Players will find symbols like cacti, tequila shots, and hot sauce bottles, each adding to the Mexican fiesta theme. The backdrop of a cobblestone street lined with colorful buildings and fluttering flags sets the scene perfectly. The audio elements, including lively mariachi music, complete the immersive experience, making players feel as though they are part of a vibrant street party.
Potential Max Win
Crazy Chilli offers an exciting potential max win, which is a significant draw for players. Achieving this win involves unlocking the game's special features and bonuses, such as the Cash Collect mechanic and the Super Spicy Free Spins. The potential max win in Crazy Chilli is competitive when compared to other slots, offering players both a thrilling gaming experience and the chance for substantial payouts.
Similar Slots Comparison
Crazy Chilli shares thematic similarities with several other slots that also celebrate the Day of the Dead and Mexican culture. For instance, 'Esqueleto Explosivo' by Thunderkick offers a similar vibrant Mexican theme with a focus on the Day of the Dead. It features colorful skull symbols and a festive atmosphere. Another comparable slot is 'Grim Muerto' by Play'n GO, which combines a Mexican fiesta theme with charming Day of the Dead characters. While these slots share thematic elements with Crazy Chilli, each has unique features and gameplay styles that make them appealing in their own right. 'Esqueleto Explosivo' stands out with its cascading reels and multipliers, while 'Grim Muerto' offers expanding wilds and a free spin feature, providing varied experiences for fans of the Mexican-themed slots.
Crazy Chilli FAQs: Answers to Your Top Questions About Blueprint Gaming's Popular Slot
How Do You Play Crazy Chilli?
Crazy Chilli is played on a 5-reel, 3-row grid with 10 fixed paylines. To play, set your bet amount and spin the reels. Wins are formed by landing matching symbols on paylines. The game includes special features like the Cash Collect mechanic, where collecting cash symbols can lead to bigger wins, and the Super Spicy Free Spins, which are triggered by scatter symbols.
What Are the Betting Options and Payouts in Crazy Chilli?
Betting in Crazy Chilli ranges from a minimum bet to a maximum bet per spin, catering to both casual players and high rollers. The game's payout structure is based on the paytable, where each symbol has a different value. The maximum win potential is a significant multiplier of the bet, offering the chance for substantial payouts.
Can You Explain the Special Features and Bonuses in Crazy Chilli?
Crazy Chilli's standout feature is the Cash Collect mechanic, where cash symbols on reels 1-4 can be collected for payouts. The Super Spicy Free Spins are triggered by landing scatter symbols, offering free spins with the potential for retriggering and increasing multipliers. These features not only add excitement but also enhance winning potential.
Is Crazy Chilli Compatible Across Different Devices?
Yes, Crazy Chilli is designed to be compatible with various devices, including desktops, tablets, and smartphones. The game's mobile version is optimized for a seamless experience on smaller screens, ensuring that players can enjoy the game regardless of the device they use.
What Are Some Tips for Playing Crazy Chilli?
While Crazy Chilli is a game of chance, players can enhance their experience by managing their bankroll effectively and understanding the game's features. It's advisable to familiarize yourself with the paytable and special features like the Cash Collect mechanic and Free Spins. Setting a budget and sticking to it can also help ensure a more enjoyable gaming experience.
Expert Tips for Playing Crazy Chilli Slot
Get ready to improve your online slots experience! We offer a range of tutorials and articles for both beginners and seasoned players. These invaluable resources will guide you towards a more strategic and enjoyable gaming session. So, dive in and boost your online slot prowess today!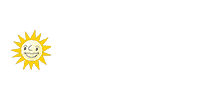 All Free Slots by Blueprint Gaming
Quick informations
Provider: Blueprint Gaming
Other Free to Play Blueprint Gaming Slots Machines on Bonus Tiime
5 Reasons to Start Playing Free Online Slots
Online slots offer a plethora of benefits, whether you're playing for fun or staking real cash. Here at Bonus Tiime, we have a penchant for sampling new slots in their free versions before diving into real-money play. This approach grants us a risk-free window to explore all the features, given that the mechanics of free slots mirror those of their real-money counterparts. So, why should you consider giving free slots a spin? Here are 5 compelling reasons:
1. Experience Zero Risk with Maximum Entertainment
Engaging in free online slots allows you to fully immerse in the game's excitement, all while being free from the anxieties of potential monetary losses. It's the perfect blend of unadulterated entertainment without any financial drawbacks.
2. Sharpen Your Gameplay with Strategic Insights
Using free slots as a practice ground provides an unparalleled opportunity to refine your gaming tactics. Delve deep into the intricacies of game features, bonus rounds, and paylines, all without the burden of any monetary commitments.
3. Explore an Expansive and Diverse Game Library
The realm of free online slots is impressively vast, featuring a spectrum of themes from the classic to the avant-garde. With such a wide array of options, you're assured of a fresh experience every time, catering to an array of aesthetic preferences.
4. Skip the Registration and Dive Straight into the Action
A significant number of platforms present free slots that don't require tedious sign-ups. This equates to immediate gaming pleasure, sans the hassle of prolonged registration processes or the need to share personal details.
5. The Ideal Training Ground for Novice Players
For those making their initial foray into the online casino world, free slots present an invaluable learning platform. They offer a hands-on opportunity to grasp game dynamics, internalize the mechanics, and establish a foundation of confidence before transitioning to real-money stakes.
Discover exclusive bonuses
Frequently Asked Questions about Crazy Chilli Free Online Slot Game
What's a slot machine?
A slot machine is a casino game which has spinning wheels that contains paylines. There are different types of slots.
Different types of slots: Progressive Jackpot, 3 colonnes, Megaways, Bonus Buy Slot, Grid,…
What's the Return to Player (RTP)?
The RTP (return to player) is the redistribution rate from a slot machine. It's based on an infinity of connections, and therefore over the very long term. It's the percent of money paid back from a slot machine compared to the money bet on it. If the slot machine has a 94% RTP, it's supposed to pay back 94€ from 100€ gained, but to the all the different players and not only what you're betting yourself.
What does Max Win mean?
The Max Win of a Slot machine is determined by its provider. Some providers like No Limit or Push Gaming usually have a Max Win above ten thousands your bet. (Fire in the Hole x60,000 for example). Other providers tend to have thousands times your bet, like Pragmatic Play with usually x5,000 your bet.
Once the max win is reached, you can win no more earnings. Even if the connection is worth more.
What does Volatility mean?
The slot machine's volatility is its payment's potential. The higher the volatility is, the higher the earning can be while playing. Usually, higher earning means rarer wins aswell. And the lower the volatility is, the higher the frequency of the win is. The volatility depends on the provider and is different on every slot machine.
For example, Tome of Madness from Play'N Go has a Max Win of x2000 your bet, its volatility is lower and gives you more regular little earnings.
Compared to San Quentin from No Limit which has a Max Win of x150 000 your bet,its volatility is higher and gives you rarer big earnings.
What's a Bonus Free Spins on slot machine?
In most slot machines, there's a chance to unlock a bonus free spins. In general, it's by finding 3 symbols scatters. After finding them, you start some, usually 10, free spins which cost nothing but allow you to accumulate a more or less substantial gain.