Get ready to roll the dice with BGaming's newest online slot sensation, Dice Bonanza. Set to hit the gaming scene on July 27, 2023, this innovative offering promises a fresh spin on your conventional slot gaming experience. Dice Bonanza captures the essence of a high-stakes dice game within an engaging 6×5 reel structure, using a 'Pay Anywhere' system. This game invites players to seek out 8 or more matching symbols, making each spin a thrilling pursuit for big wins.
Dice Bonanza's standout feature is its distinctive design, which comes to life with dice-themed symbols. It's a masterstroke of visual appeal and effortless navigation, bringing a whole new dimension to online slots. Combined with exhilarating gameplay mechanics such as Tumbles, W Scatters, and Safe Multipliers, Dice Bonanza is not just about spinning reels – it's about immersing yourself in a game of chance, risk, and reward. Engage with this creative high variance slot from BGaming and experience the thrill of the dice roll.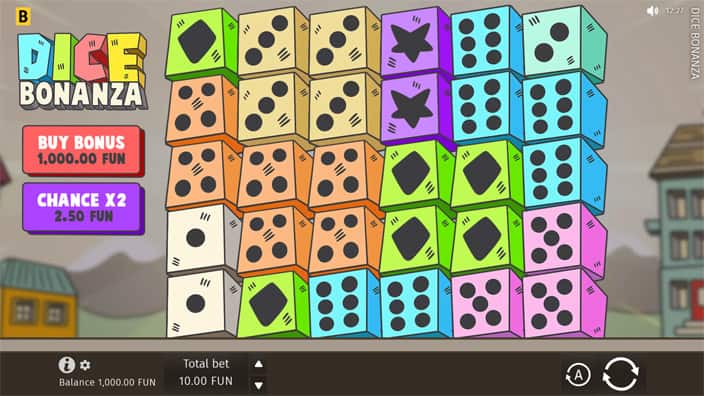 Demo Spotlight of Dice Bonanza by Bonus Tiime
BGaming Online Slots Provider
Experience top-tier gaming with BGaming, a renowned figure in the online casino industry. Known for delivering immersive, innovative, and visually stunning games, BGaming consistently pushes the envelope of online gaming. With their newest slot, Dice Bonanza, they continue to demonstrate their commitment to excellence.
Specifications of Dice Bonanza Online Slot
Dice Bonanza online slot by BGaming is a unique entry in the world of online gaming with its 6×5 reel structure and an intriguing 'Pay Anywhere' system, allowing for an abundance of winning opportunities. This high-volatility slot game ensures a heart-pounding gaming experience as players strive to match eight or more symbols anywhere on the reels.
The gameplay of Dice Bonanza closely resembles the renowned Sweet Bonanza slot by Pragmatic Play, but with a captivating twist – a universe centered around dice. On Stake, you can plunge into the thrilling gameplay, with stakes ranging from a modest 0.20 to a high-roller-friendly 50 per spin. Dice Bonanza offers an engaging and diverse betting environment to cater to players of all risk preferences.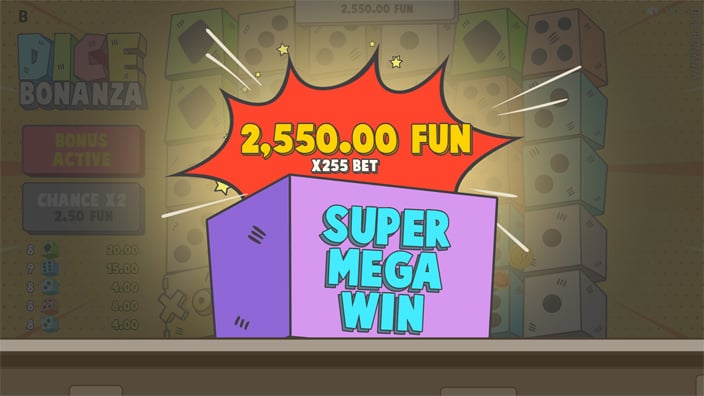 RTP
Dice Bonanza boasts an impressive 96% RTP (return to player), indicating its potential for rewarding outcomes. This RTP, sitting at the industry standard, conveys a favorable assurance of return on your stakes over an extended period of gameplay.
Volatility
High volatility is at the core of Dice Bonanza's thrilling gameplay. This characteristic implies a higher risk but also offers the prospect of larger, less frequent payouts. This high-risk, high-reward dynamic is perfect for thrill-seekers who prefer an intense, adrenaline-filled gaming experience.
Max Win
Dice Bonanza presents an incredible max win of up to 15,000 times your bet. This means, if you stake €1 per spin, you could potentially rake in a staggering €15,000. With such massive winning potential, this game is a beacon for players seeking life-changing payouts.
Theme
Dice Bonanza, by BGaming, offers a refreshingly unique theme centered around the world of dice. Captivating players with its innovative design, this online slot brings the thrill of a dice game to your screen. The detailed, dice-themed symbols and immersive gameplay create an engaging experience, reminiscent of a high-stakes casino dice table. It's truly a thematic standout in the ever-evolving landscape of online slots.
Features of Dice Bonanza's Online Slot
Dice Bonanza offers a rich array of features designed to enhance your gaming experience. From multipliers to free spins, each element adds a thrilling dimension to the gameplay, increasing the opportunities for substantial rewards.
Chance 2x Feature
The Chance 2x Feature in Dice Bonanza provides a unique opportunity to double your chances of triggering free spins. This comes at a slight increase in your bet, adding an extra layer of strategy to your gameplay.
Multiplier Symbol
The Multiplier Symbol in Dice Bonanza is the 'Safe Multiplier'. It appears during free spins and displays a random multiplier value between 2x and 100x, amplifying your winnings significantly.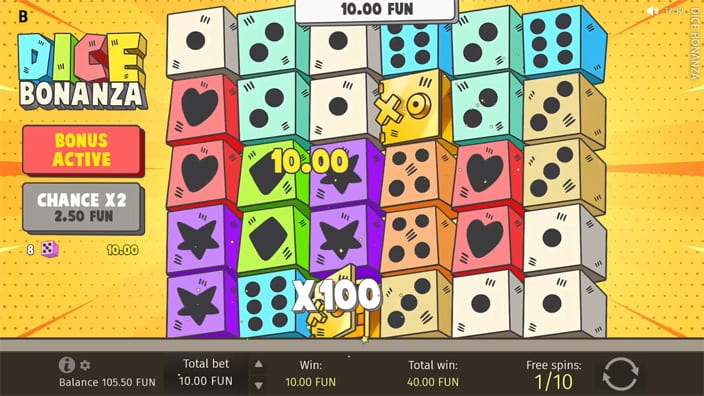 Free Spins
Landing four or more W Scatters on the reels in Dice Bonanza triggers the Free Spins feature. Depending on the number of W Scatters, you can earn between 10 and 30 free spins, providing potential for massive rewards.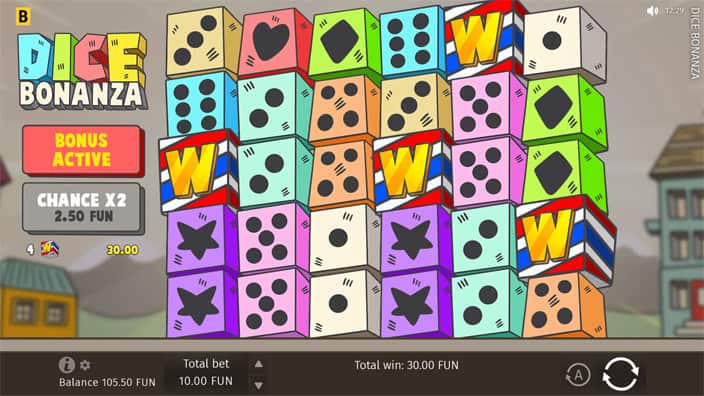 Bonus Buy
The Bonus Buy feature in Dice Bonanza allows players to directly access the Free Spins feature for 100x their bet. This feature is an exciting shortcut for those eager to dive into the action without waiting for the right combination of symbols.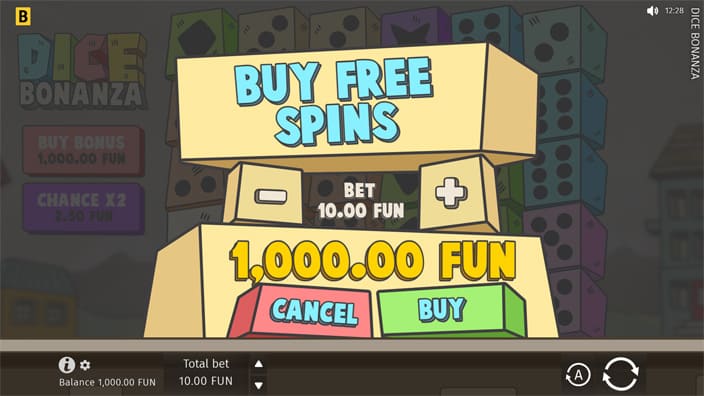 How to Play to Dice Bonanza's Online Slot
Playing Dice Bonanza is straightforward and user-friendly, allowing both novice and experienced players to dive right into the action. To begin, set your desired bet amount using the intuitive controls located at the bottom of the screen. The bet range offers flexibility, catering to various budgets and playing preferences.
In Dice Bonanza, the symbols hold different values. The game features nine pay symbols, all resembling different dice variations. The six possible outcomes of a dice roll, represented by numbers, make up the lower-value symbols. Additionally, there are dice with diamonds, hearts, and stars, which carry higher value. The star dice reign supreme, offering a generous payout of 50 times your bet when you manage to find 12 or more of them on the reels.
Keep an eye out for the special symbols as well. The W Scatters trigger the Free Spins feature, where the excitement reaches its peak. The Safe Multipliers, appearing during free spins, can provide substantial boosts to your winnings with random multiplier values ranging from 2x to 100x. Understanding the value of each symbol and how they contribute to your potential winnings is key to maximizing your enjoyment and rewards while playing Dice Bonanza.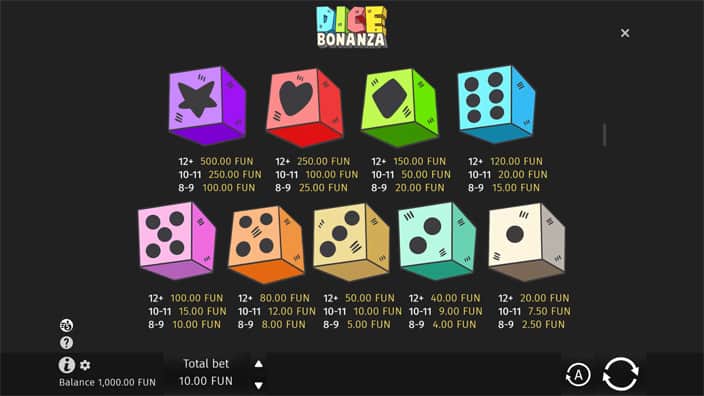 How to Win Real Money with Dice Bonanza Online Slot
If you're filled with anticipation and can't wait to give Dice Bonanza a spin, the perfect destination is Stake casino. Experience the exhilaration of this captivating online slot, complete with its enticing features and the possibility of significant wins. Don't hesitate any longer – visit Stake casino now and embark on your dice-filled adventure!

Review of the Online Slot Dice Bonanza by Bonus Tiime
Dice Bonanza by BGaming offers a refreshing and visually captivating theme centered around dice. The game's immersive design, featuring dice symbols across the reels, creates a visually appealing and engaging experience. The attention to detail and strong visual identity set Dice Bonanza apart from other online slots, making it instantly recognizable and appealing to players seeking a unique gaming experience.
One of the highlights of Dice Bonanza is its massive max win potential of 15,000 times the bet. This staggering payout has the power to turn even modest bets into substantial rewards, adding an extra layer of excitement and anticipation to each spin. Whether you're a casual player or a high roller, the chance to strike it big is within reach with Dice Bonanza.
While Dice Bonanza bears similarities to other popular games like Sweet Bonanza, it stands out with its dice-themed universe. The gameplay has proven to be popular among players, as seen in the success of similar titles such as Popiplay's Keys to the Sea and 3 Oaks Gaming's Candy Boom. The popularity of the dice universe is a testament to its appeal and its ability to captivate players with its unique aesthetics and gameplay mechanics.
Overall, Dice Bonanza offers a visually stunning and potentially rewarding gaming experience. With its captivating theme, massive max win potential, and the popularity of the dice universe, this online slot is sure to captivate players seeking excitement, immersive visuals, and the chance to roll the dice for big wins.
Advices and Tips to Play Dice Bonanza
1. Try Out Demo Mode on Bonus Tiime
Like most online slots, Dice Bonanza comes with the option of playing free in demo mode. This opens up the game to potential players who wish to see what it is all about without having to risk any actual money. Demo mode is not just for the curious newbie, though. It gives any player an opportunity to discover the game mechanics and its special features for themselves. In this way, before a single cent is bet, a player can be familiar with Dice Bonanza's scatters and wild cards – and how these have an impact on the overall game. This leads us to the next pre-game tip for canny players: take a look at the pay table.
2. Relax and Entertain Yourself
Trying first the free slot demo is the perfect way to unwind, relax, and simply enjoy playing Dice Bonanza – without losing money or the stress to catch chasing wins.
3. Always Study the Paytable of the Slot
The pay table is the slot's equivalent of a price list. You will find here a complete list of all the symbols in the game, along with their value. You will also be able to discover the properties of all the wilds and golden wilds. Combined with spending a little time in demo mode, this preparation will allow players to place their first bet with confidence when beginning the proper game.
4. Plan a Betting Budget and Stick to it
Anybody concerned with promoting Responsible Gambling will offer one piece of advice first and foremost: don't bet more than you are prepared to lose. When it comes to play online slots for real money, then this manifests itself through sticking to a pre-agreed budget. If a player reaches their betting ceiling without a big win then it is time to call it a day. Stop playing as soon as you reach the budget limit.
5. Don't Be Dazzled by Huge Jackpots
Some expert gamblers spend their time online chasing those mega-jackpots. While there is nothing wrong with that, it is a fact that slots offering huge progressive jackpots normally have higher odds and less chance of paying out.