Play Commander of Tridents of Backseat Gaming for free on our page. This machine has a High volatility and a RTP of 96.28%. The minimum bet is €0.2 and the maximum bet is €1250.
This slot is available on Stake and on other casinos, discover them here to enjoy our exclusive casino bonuses.
Dive into an extraordinary underwater adventure with Commander of Tridents, the latest online slot game developed by Backseat Gaming. Inspired by the powerful god of the sea, Poseidon, this visually stunning game transports players to the depths of the ocean. With its captivating theme, immersive design, and exciting features, Commander of Tridents offers an unparalleled gaming experience that will keep players hooked.
Prepare to be enchanted by the mesmerizing underwater world of Commander of Tridents. The game's captivating design showcases intricate details, transporting players to a realm filled with marine wonders. From the moment you dive into the 5-reel, 5-row gameplay, you'll encounter thrilling features that will add excitement to every spin. Mystery Reels, Golden Chests, and Wild Reels all contribute to the immersive gameplay, creating opportunities for big wins and surprises.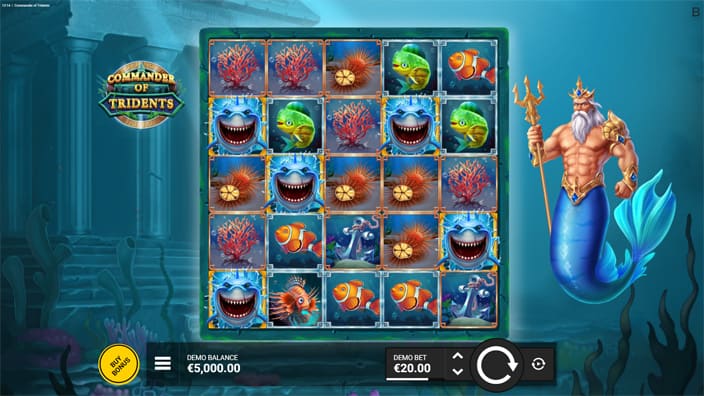 Demo Spotlight of Commander of Tridents by Bonus Tiime
Backseat Gaming Online Slots Provider
Backseat Gaming is an innovative and dynamic online gaming provider that brings thrilling and immersive experiences to players worldwide. With a focus on cutting-edge technology and captivating gameplay, Backseat Gaming offers a wide range of exciting casino games that cater to diverse player preferences. Discover the next level of entertainment with Backseat Gaming's exceptional gaming portfolio.
Specifications of Commander of Tridents Online Slot
Commander of Tridents is an exhilarating online slot game that boasts impressive specifications to enhance your gaming experience. With 5 reels and a varying number of paylines, this game offers multiple ways to win and increase your chances of landing lucrative combinations.
In Commander of Tridents, players will notice familiar elements reminiscent of other popular slot games. The portrayal of Poseidon, the mighty god of the sea, bears a striking resemblance to the main character in Gates of Olympus, immersing players in a captivating mythical world. Moreover, the game incorporates mechanics found in beloved titles like Razor Shark and Mystery Museum, adding an extra layer of excitement and familiarity to the gameplay.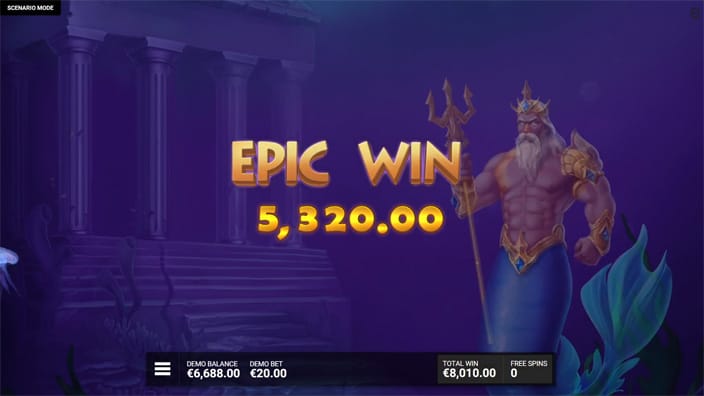 RTP
With an impressive RTP (return to player) of 96.28%, Commander of Tridents offers players a favorable return on their bets. This high RTP ensures that players have a great chance of winning and enjoying extended gameplay sessions filled with excitement and rewards.
Volatility
Commander of Tridents features high volatility, adding an extra thrill to the gaming experience. While the wins may be less frequent, they have the potential to be significant. The anticipation of landing a big win keeps players engaged and excited, making each spin a suspenseful adventure.
Max Win
With a maximum win of 13,000x the bet, Commander of Tridents holds immense winning potential. For instance, if someone plays at a stake of 1€ per spin, they could potentially win a staggering 13,000€. This extraordinary winning opportunity adds to the excitement and allure of the game, enticing players to aim for those incredible payouts.
Theme
The theme of Commander of Tridents invites players to embark on an epic underwater adventure, reminiscent of the film Atlantis: The Lost Empire. Just like the movie captivated audiences with its exploration of an ancient underwater civilization, Commander of Tridents immerses players in a similar mythical world.
Features of Commander of Tridents' Online Slot
Discover the exciting features that make Commander of Tridents online slot an exhilarating gaming experience. From Expanding Wild Tridents to Poseidon's Treasure and Free Spins, this game is packed with thrilling elements that will keep you entertained and aiming for big wins.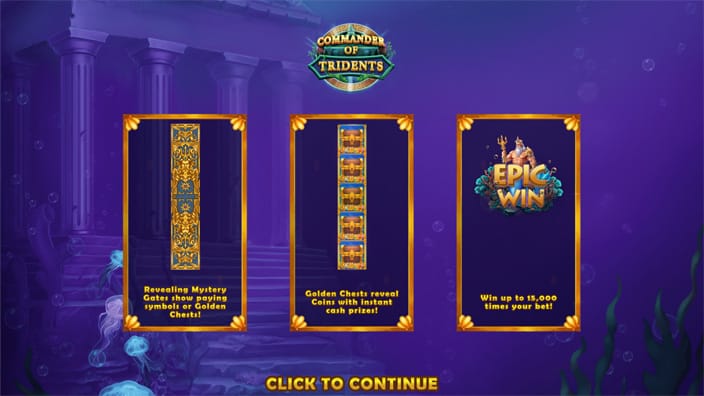 Expanding Wild Tridents
The Wild Tridents in Commander of Tridents have the power to expand and cover entire reels, increasing your chances of landing winning combinations.
Mystery Gates
Encounter the Mystery Gates and uncover their secrets. These symbols nudge to cover reels and reveal random symbols, adding an element of surprise to the gameplay.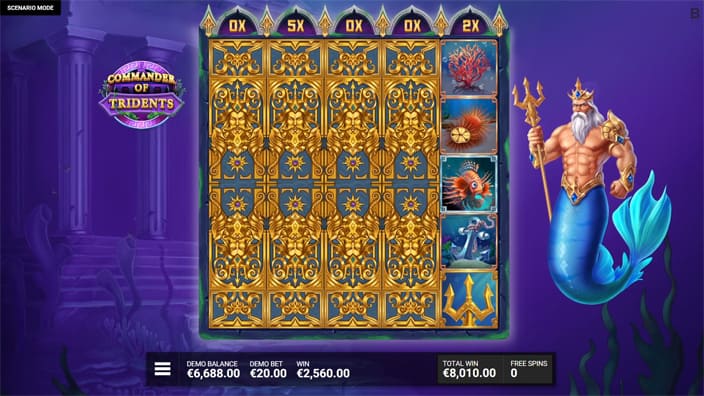 Poseidon's Treasure
Dive into Poseidon's Treasure and unlock its riches. Discover Bronze, Silver, and Gold Coins, as well as Multiplier Symbols and Gather symbols for exciting rewards.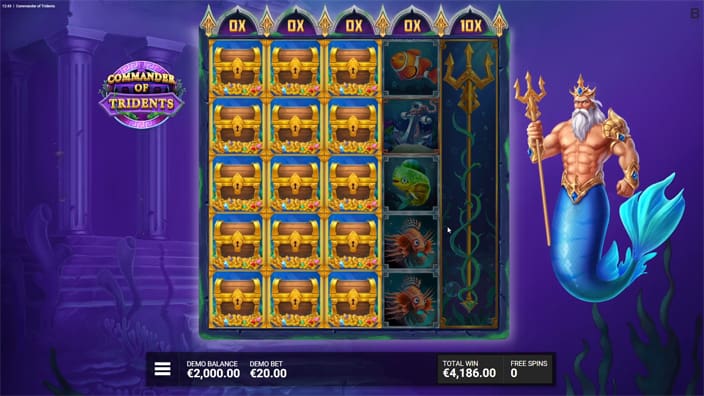 Multiplier Symbol
Keep an eye out for the Multiplier Symbols in Commander of Tridents. These symbols can boost your winnings by multiplying them by a specific value.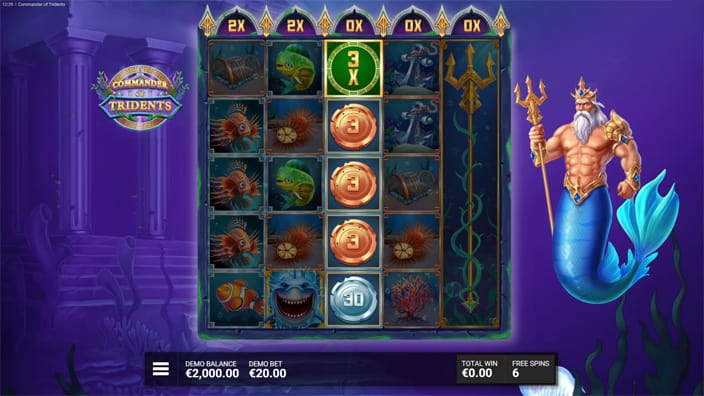 Free Spins
Trigger the Free Spins feature and enjoy a set number of spins without wagering. Take advantage of sticky Mystery Gates and Reel Multipliers for increased winning potential.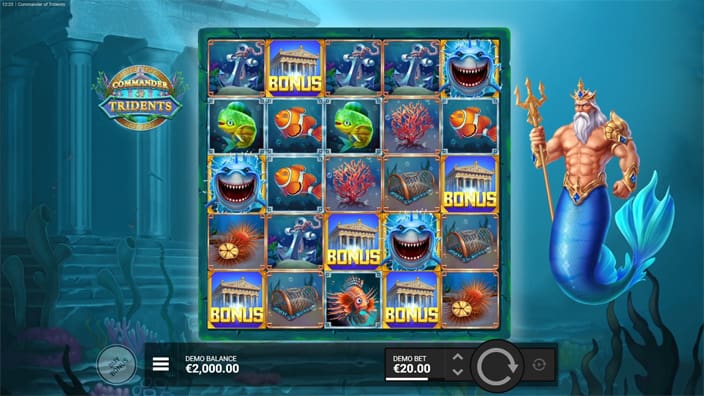 Golden Temple
When the Golden Temple symbol lands on a reel, it adds a value to the Reel Multiplier, boosting the potential payouts in the Free Spins feature.
Bonus Buy
For those seeking instant excitement, the Bonus Buy feature allows you to purchase direct access to the Free Spins feature, providing an opportunity for thrilling gameplay and big wins.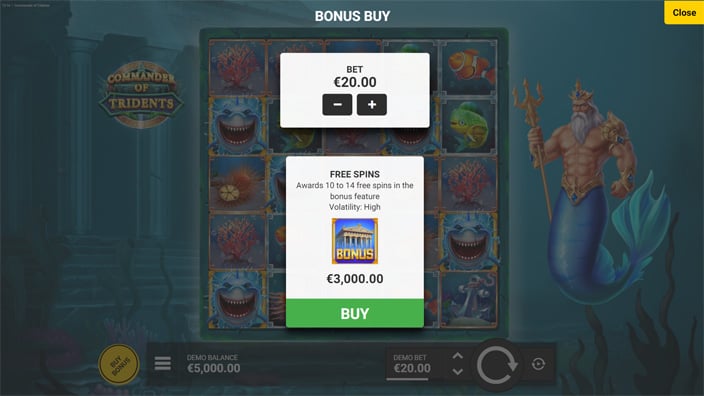 How to Play to Commander of Tridents' Online Slot
To embark on your Commander of Tridents slot adventure, adjust your bet to suit your style and budget. Click spin to set the reels in motion and aim to land matching symbols on paylines from the leftmost reel. Keep an eye out for high-paying symbols like the shark, anchor, and lionfish. The golden Trident symbol acts as a wild, expanding to cover a reel and substituting for other symbols. Understand the varying symbol values to navigate the game and increase your chances of winning.
In Commander of Tridents, symbol values determine payouts. Lower-paying symbols include coral, sea urchins, and traps. Premium fish symbols like Nemo-like fish, lionfish, and green fish offer higher payouts. Landing five shark symbols yields the highest payout. Special symbols such as Multiplier symbols amplify winnings, while the Gather symbol collects values from other symbols to enhance rewards. Familiarize yourself with symbol values to maximize your journey through this thrilling underwater slot game.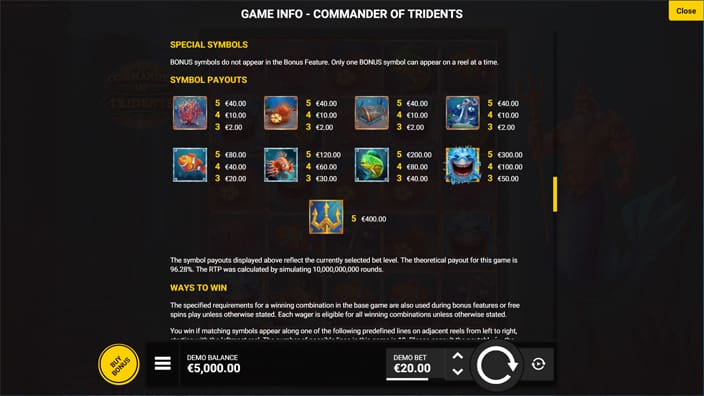 How to Win Real Money with Commander of Tridents Online Slot
If you're eager to experience the thrill of Commander of Tridents slot right away, look no further than Stake casino. As a reputable online casino, Stake offers a platform where you can dive into the depths of this exciting slot game and embark on an unforgettable underwater adventure.

Review of the Online Slot Commander of Tridents by Bonus Tiime
Commander of Tridents is a visually stunning online slot that immerses players in an epic underwater adventure inspired by the powerful god of the sea, Poseidon. With its captivating theme and mesmerizing design, the game transports players to an enchanting underwater world. The attention to detail and immersive graphics create a truly immersive gaming experience.
One of the highlights of Commander of Tridents is its impressive maximum win of 5,000 times the bet. This offers players the potential for substantial rewards and adds an extra layer of excitement to each spin. The anticipation of landing that big win creates a thrilling atmosphere that keeps players engaged and coming back for more.
Backseat Gaming showcases their innovation and expertise by incorporating popular and well-liked mechanics into Commander of Tridents. By taking inspiration from successful games and adding their own unique twists, Backseat Gaming ensures that players will have a fresh and exciting experience. This combination of familiarity and innovation sets Commander of Tridents apart and solidifies Backseat Gaming as a strong and innovative player in the online slot industry.
Advices and Tips to Play Commander of Tridents
1. Try Out Demo Mode on Bonus Tiime
Like most online slots, Commander of Tridents comes with the option of playing free in demo mode. This opens up the game to potential players who wish to see what it is all about without having to risk any actual money. Demo mode is not just for the curious newbie, though. It gives any player an opportunity to discover the game mechanics and its special features for themselves. In this way, before a single cent is bet, a player can be familiar with Commander of Tridents' scatters and wild cards – and how these have an impact on the overall game. This leads us to the next pre-game tip for canny players: take a look at the pay table.
2. Relax and Entertain Yourself
Trying first the free slot demo is the perfect way to unwind, relax, and simply enjoy playing Commander of Tridents – without losing money or the stress to catch chasing wins.
3. Always Study the Paytable of the Slot
The pay table is the slot's equivalent of a price list. You will find here a complete list of all the symbols in the game, along with their value. You will also be able to discover the properties of all the wilds and golden wilds. Combined with spending a little time in demo mode, this preparation will allow players to place their first bet with confidence when beginning the proper game.
4. Plan a Betting Budget and Stick to it
Anybody concerned with promoting Responsible Gambling will offer one piece of advice first and foremost: don't bet more than you are prepared to lose. When it comes to play online slots for real money, then this manifests itself through sticking to a pre-agreed budget. If a player reaches their betting ceiling without a big win then it is time to call it a day. Stop playing as soon as you reach the budget limit.
5. Don't Be Dazzled by Huge Jackpots
Some expert gamblers spend their time online chasing those mega-jackpots. While there is nothing wrong with that, it is a fact that slots offering huge progressive jackpots normally have higher odds and less chance of paying out.
Backseat Gaming : Provider of Free Online Slot Machines
Dive into the world of Lord Venom, Commander of Tridents, and Sleepy Grandpa with Backseat Gaming. Partnered with Hacksaw Gaming, we elevate your gaming journey with inventive slot machines and immersive play.