Premier League forecasts rank high among football enthusiasts in England and globally, and for a good reason! Every weekend, the top 20 clubs in England's Premier League electrify fans with thrilling matches. Whether it's the title contenders, those eyeing European qualification, or the teams striving to evade relegation to the Championship, there's something for everyone.
Starting with the inaugural matchday of the English Premier League season and culminating on 19 May 2024, our seasoned experts will guide you with their Premier League predictions. Navigate your way through all the matches with our comprehensive forecasts, including insightful statistics and valuable tips. Whether you're a beginner or a seasoned punter, our guide to making accurate Premier League predictions is here to assist you. The excitement of the English Premier League awaits!
Who Will Triumph in 2023-2024? A Prediction for the Premier League Title Winner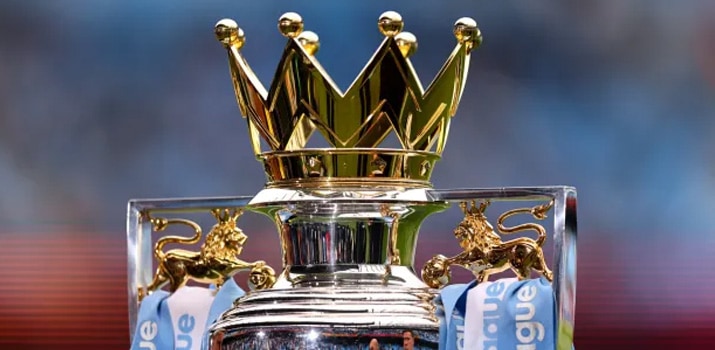 The excitement continues to build in the 2023-2024 Premier League season, as every matchday is set to be fiercely competitive from start to finish, just as we've witnessed in previous years of English football.
In the iconic arenas of England's top-tier league, including Old Trafford, Emirates Stadium, Anfield, and Stamford Bridge, the battle will rage. England's elite clubs are not only vying for the coveted league title but also competing for prestigious spots in the Champions League, Europa League, and Europa Conference League, or simply fighting to remain in the Premier League.
Manchester City, under the strategic leadership of Pep Guardiola, once again emerge as the bookmakers' favorite for the league crown. The previous season saw them claw back from behind, overtaking Arsenal, who dominated for an extended period. Eyeing a fourth consecutive Premier League triumph and a fifth in six years, the Citizens are in for another spectacular run.
Yet, challenges await from formidable contenders like Liverpool, who closed last season on a high, as well as Manchester United and Newcastle United, all eager to unseat City. Chelsea and Tottenham, under new guidance, are hungry for resurgence. However, the prediction leans heavily towards Manchester City, who appear destined to top the table once more.
Our forecast: Manchester City will reign as champions of England for the 2023-2024 season!
Premier League prediction – odds on the favorites for the English title
Manchester City – 1.73
Arsenal – 6.00
Liverpool – 9.00
Manchester United – 12.00
Chelsea – 13.00
Newcastle – 15.00
Tottenham – 41.00
Brighton – 51.00
Aston Villa – 151.00
West Ham – 251.00
Premier League's Top 4: Who Will Earn a Spot in the Champions League?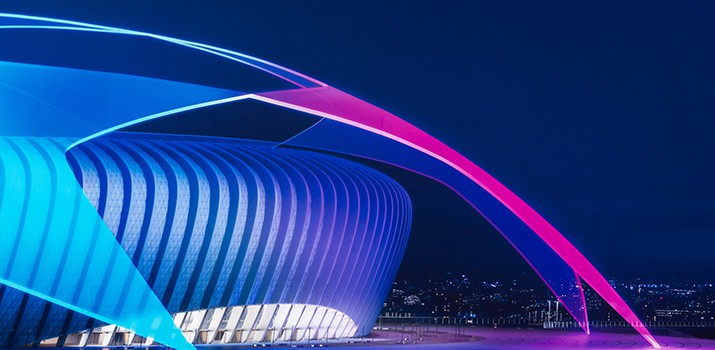 Our forecast for the four coveted Champions League spots in the Premier League goes to: Manchester City, Liverpool, Arsenal, and Manchester United.
Manchester City, anticipated to retain the English crown, lead the way. Following them, Liverpool, who narrowly missed out last season, seem well-positioned for a triumphant return to the top four. We're convinced that their recent performance indicates a top 4 finish this time around. Manchester United, a consistent powerhouse in the Premier League, is poised to secure another top 4 spot. Arsenal, having finished as runners-up the previous season, should be in the thick of the race as well. However, it would be remiss to overlook other formidable challengers such as Chelsea, Tottenham, and Newcastle, all of whom are likely to put up a vigorous fight for those prestigious positions.
Premier League prediction – odds on the favorites for a place in the Top 4
Manchester City – 1.08
Arsenal – 1.62
Liverpool – 1.67
Manchester United – 1.73
Newcastle – 2.20
Chelsea – 2.21
Tottenham – 4.00
Brighton – 5.00
Aston Villa – 11.00
West Ham – 20.00
Which Premier League team will qualify for the 2024-25 Europa League?
In addition to the FA Cup winner, the team finishing in fifth place in the Premier League will earn a spot in the UEFA Europa League for the 2024-2025 season. Among the contenders for this Europa League position, clubs such as Tottenham Spurs, Chelsea Blues, and Newcastle Magpies appear to be the logical frontrunners. This season, they may very well find competition from the likes of Brighton or West Ham United.
Predicting the future of football is always challenging, but as of July 2023, there's a strong possibility that these teams will feature among the Premier League's top five.
Our forecast for the upper echelon of the league is: Manchester City, Liverpool, Manchester United, Arsenal, and Chelsea rounding out the top five.
Relegation predictions: which Premier League club will finish in the bottom three?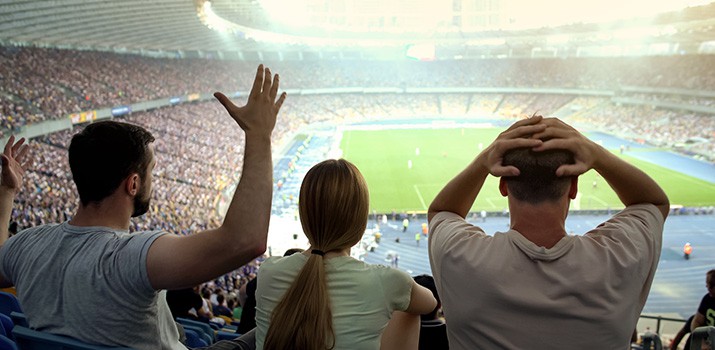 The lower end of the Premier League table is gearing up for an intense relegation scrap, anticipated to be as riveting as last season. For context, the teams finishing in 18th, 19th, and 20th positions will descend to the Championship for the 2024-25 campaign. Last season delivered a shocker with the relegation of Leicester City. This time around, we're forecasting Luton Town, Nottingham Forest, and Bournemouth to occupy the unfortunate bottom three spots.
Premier League prediction – relegation odds
Luton Town – 1.36
Sheffield United – 1.62
Bournemouth – 2.75
Burnley – 2.75
Nottingham Forest – 3.75
Everton – 4.00
Fulham – 4.50
Wolverhampton – 5.50
Crystal Palace – 8.00
Brentford – 9.00
Premier League top scorer prediction 2023-2024: which player will score the most goals?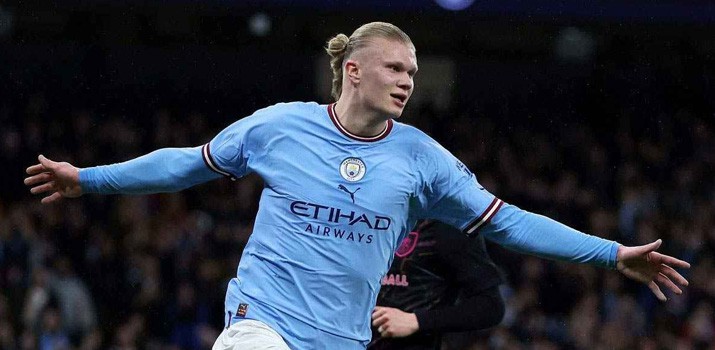 Beyond the various betting opportunities we've discussed, there's also the option to bet on the top goal scorer for the 2023-2024 Premier League season. As of July 2023, we're still in the dark about some of the striking talents that will grace the English Premier League in the coming campaign. However, we have the latest betting odds for the top scorer, and unsurprisingly, one name stands out. Erling Haaland, last season's record-breaking top scorer in both the Premier League (where he set a new benchmark for the most goals in a single season) and the Champions League, is clearly the player to keep an eye on this season.
Premier League prediction – top scorer odds
Erling Haaland (Manchester City) – 1.72
Harry Kane (Tottenham) – 7.00
Mohamed Salah (Liverpool) – 8.00
Darwin Nunez (Liverpool) – 17.00
Marcus Rashford (Manchester United) – 17.00
Gabriel Jesus (Arsenal) – 17.00
Ollie Watkins (Aston Villa) – 26.00
Christopher Nkunku (Chelsea) – 26.00
A Beginner's Guide to Understanding the English Premier League
The Premier League represents the pinnacle of English football, where the 20 premier teams in England compete in a thrilling race to glory. The season is structured around home and away matches, with each club facing every other team once before the fixtures are reversed. In total, there are 38 matchdays, amounting to 380 action-packed games.
Here's what unfolds at the conclusion of a Premier League season:
The team finishing in 1st place is crowned the champion of England and secures a spot in the Champions League.
The clubs positioned 2nd, 3rd, and 4th also qualify for the Champions League group stages.
The 5th-placed team earns a place in the Europa League (with potentially the 6th-placed team, depending on the FA Cup winner).
The 6th or 7th-placed club, contingent on the English League Cup winner, qualifies for the Europa Conference League.
The teams ending in 18th, 19th, and 20th places are demoted to the Championship.
With so much riding on the outcomes, it's clear why the English Premier League captivates fans and bettors alike. Predicting Premier League games has become a favorite pastime among English punters, engaging them at top online bookmakers every weekend. Whether you're a die-hard fan or a casual observer, the Premier League offers a rich tapestry of competition and excitement.
Tips from our Experts to bet on the Premier League
Want to predict the outcomes of Premier League matches successfully? It requires not only in-depth understanding of the league but also the application of astute betting strategies. As experts with years of specialization in the Premier League, SportyTrader is pleased to share our key insights and top recommendations for accurate predictions:
1. Consider the Form of Each Team
Analyzing recent results and key statistics is fundamental. For instance, if Manchester United hasn't won in 5 games while Brentford is on a 9-game unbeaten run, a double chance of a draw or Brentford win could be a wise prediction. Delve into the scores, goals scored and conceded, home or away form, and more to enhance your prediction.
2. Examine the Clubs' Fixture Lists
Teams' schedules and the frequency of matches may affect performance. Consider the case of Everton not playing in European competition, while Arsenal juggles both Premier League and Champions League games. Arsenal might rotate their squad, which can influence the match's outcome. Always consider line-ups and crowded schedules when betting.
3. Review the Absentee Lists
Key players might be missing due to injury, suspension, or other reasons. A team without its captain or regular goalkeeper could struggle. Being aware of significant absences might prevent costly losses.
4. Assess the Psychological Context
The mental aspect of a match is vital. Consider rivalries, pre-match statements, the importance of the match, and other factors that may influence the teams' performances. High-pressure games might be less goal-prolific, and a team with nothing to lose or gain might experiment with their line-up. These nuances must be carefully analyzed.
5. Analyze Recent Premier League Statistics
Systematic analysis of statistics can lead to smarter bets. If a team has consistently seen both teams score in their games, that trend might continue. Use various statistical insights to inform your bets, and don't hesitate to take advantage of welcome bonuses from reputable bookmakers.
Mistakes to Avoid in Making Premier League Predictions
Predicting the outcome of Premier League matches can be an exciting but challenging endeavor. There are common pitfalls that both new and seasoned punters should avoid to enhance their chances of success. Here's a list of what NOT to do when making your Premier League predictions:
Ignoring Match Analysis: Simply going with your gut without looking into the details of the match can lead to failure.
Focusing Only on Club Prestige: It's a mistake to consider only the reputation of a club rather than its current form. A renowned team might be out of form, affecting their performance.
Overlooking the Odds: Failure to analyze the odds and missing out on the most attractive ones can impact the potential winnings.
Betting on Meaningless Matches: Betting on a game with nothing at stake, especially towards the season's end, can be unpredictable as teams may not play with their usual intensity.
Chasing Losses: Trying to recover from a lost bet by hastily placing another one can lead to a spiral of losses.
Relying on Boosted Odds Without Analysis: Tempting as they might be, bookmakers' boosted odds should not be the sole basis for your bet. In-depth analysis is still crucial.
Bias Towards Your Favorite Team: Allowing personal preference to cloud judgment can lead to biased and unsound bets.
These common mistakes often lead to unnecessary losses. As you engage in predicting Premier League matches for the new season, being aware of these pitfalls and avoiding them will help enhance your chances of success and enjoyment of the game.
Predicting the Premier League: Essential Statistics to Consider
To optimize your Premier League betting strategy, it's vital to be aware of the crucial statistics from the English league. The following are the key figures to keep in mind for your Premier League predictions, sourced from the latest season of the competition (2022-2023):
Home wins: 48%
Draws: 23%
Away wins: 29%
Average goals: 2.85 goals per game
+1.5 goals: 75%
-1.5 goals: 25%
+2.5 goals: 53%
-2.5 goals: 47%
+3.5 goals: 31%
-3.5 goals: 69%
"Both teams score: yes": 51%.
Away goal: 67% of matches
Victory by 2 goals or more (handicap): 39% of duels
Correct score 0-0: 6% of matches
Most frequent score: 1-0 (19% of games)
Bonus Tiime Conclusion
In conclusion, making accurate Premier League predictions is both an art and a science. It requires a thorough understanding of various factors, from team form and individual statistics to psychological aspects and fixture schedules. By embracing the insights and tips shared in this guide, bettors can improve their ability to navigate the complexities of this thrilling league. Being mindful of common pitfalls and conducting diligent analysis can lead to more successful and enjoyable betting experiences.
As the Premier League continues to be one of the most watched and unpredictable competitions in the world, engaging with it on this deeper level adds another dimension to the excitement. Whether you're a seasoned bettor or new to the game, the information presented here can be your guide to a more informed and successful Premier League season. Happy betting, and enjoy the action on the pitch!
You can also play Bonus Tiime Free Bet Tournament to test your skills and to try to win a share of the €150 weekly cashprize before engaging reel money.
Frequently Asked Questions about The Ultimate Bet Guide for Premier League Season 2023/2024
What are some key factors to consider when making Premier League predictions?
You should consider the form of each team, clubs' fixture lists, missing players due to injuries or suspensions, the psychological context of the match, and analysis of the latest Premier League statistics.
Can I rely only on a club's prestige for betting?
No, relying solely on a club's prestige without considering its current form and other factors can lead to mistakes in betting.
Why is the fixture list important in making predictions?
The fixture list helps in understanding the playing schedule of a team, and whether they might rotate their squad, which can significantly impact the game's outcome.
How can the psychological context of a match affect its outcome?
Factors like rivalry between clubs, statements by players or coaches, or high-pressure fixtures can have a mental impact on teams and players, influencing the match's outcome.
Should I bet on boosted odds without analysis?
No, even if the odds are boosted, you should carry out a detailed analysis of the match before placing your bet.
Is it a good strategy to consistently bet on my favorite team?
Betting repeatedly on your favorite team without proper analysis can be a common pitfall. It's important to make unbiased decisions based on the actual statistics and facts of the match.
How do statistics play a role in making predictions?
Analyzing key statistics like goals scored, goals conceded, home/away form, etc., can help you make more informed predictions on different types of bets.
What should I avoid doing when making Premier League predictions?
You should avoid not analyzing the match, ignoring form, not analyzing the odds, betting on matches with nothing at stake, trying to make up for losing bets, and a few other pitfalls as mentioned in the article.
Can I bet on a Premier League match at the end of the season?
A: Yes, you can, but be cautious. Matches with nothing at stake can lead to unexpected results, so detailed analysis is needed.
Where can I find detailed statistics and expert predictions on Premier League matches?
Many websites provide detailed statistics and expert analysis on Premier League matches. You can also consult specialized sport prediction sites like SportyTrader, as mentioned in the article, to get professional insights.