La Liga, Spain's premier football league, enjoys immense popularity across Europe. Many fans and punters alike frequently make predictions on this highly competitive league. Renowned as one of the top 5 European football leagues, La Liga stands shoulder to shoulder with the English Premier League, Serie A, Bundesliga, and Ligue 1. During the season, which spans from 11 August 2023 to 26 May 2024, you will have numerous opportunities to place bets on matches featuring Spain's elite 20 clubs. Whether it's the race for the championship, the fight for a favorable finish, or the drama of avoiding relegation, La Liga offers excitement at every turn.
Looking for expert advice on betting in La Liga? Our team of seasoned betting experts provide free La Liga predictions, long-term forecasts, as well as comprehensive statistics and invaluable tips to guide your La Liga betting strategy. Dive into our insights below to enhance your chances of making winning bets on the Spanish league this season!
Who Will Triumph in 2023-2024? A Prediction for La Liga Title Winner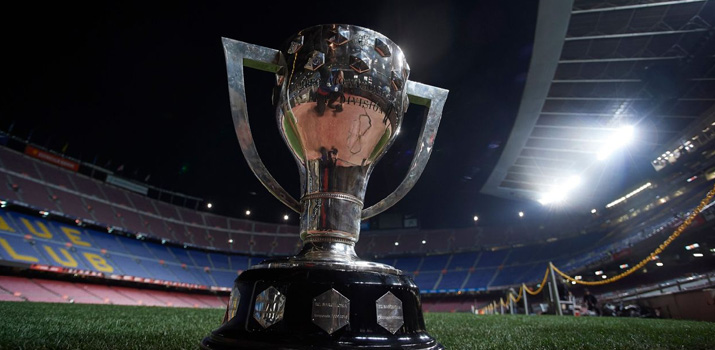 The 2023-2024 season of La Liga, Spain's elite football league, is shaping up to be a nail-biting competition. Every match promises to be a tightly contested battle, whether at the top or bottom of the standings. The fervor among Spanish football clubs ensures fierce competition, promising a thrilling season ahead!
Football enthusiasts can look forward to witnessing epic clashes in the iconic and historic stadiums of La Liga such as Estadio Santiago Bernabeu, Cívitas Metropolitano, San Mamés, Mestalla, and the Ramón-Sánchez-Pizjuán Stadium. Notably, Barcelona's traditional home ground, Camp Nou, will be closed for renovations. Still, top Spanish clubs will be vying for the league title, as well as coveted spots in the Champions League, Europa League, and Europa Conference League, all while trying to steer clear of relegation.
In the race for the La Liga title, Real Madrid emerges as the slight favorites with bookmakers. The struggle for supremacy is anticipated to be intense, especially against Barcelona, the reigning champions, who are poised to defend their crown against their historic rivals. The storied rivalry between Real Madrid and Barcelona will undoubtedly add more fuel to the fire. Behind them, Atlético Madrid, although not quite matching the might of the two giants, will persistently challenge and maintain pressure until the very end.
While other contenders like Sevilla, neighbors Betis, Real Sociedad, and Villarreal may lack the resources to compete against the likes of Real Madrid, with stars like Jude Bellingham and Vinicius, throughout the 38-match season, they are still likely to deliver captivating performances. As of now, the most confident La Liga prediction for the end of the 2023-2024 season is pointing towards Real Madrid as the champions of Spain!
La Liga Prediction – odds on the Favorites for the Spanish Title
Real Madrid – 2.00
FC Barcelona – 2.38
Atletico Madrid – 10.00
Seville – 34.00
Real Sociedad – 41.00
Villarreal – 51.00
Athletic Bilbao – 81.00
Betis Sevilla – 101.00
Celta Vigo – 501.00
Osasuna – 501.00
La Liga Top 4: Who Will Earn a Spot in the Champions League?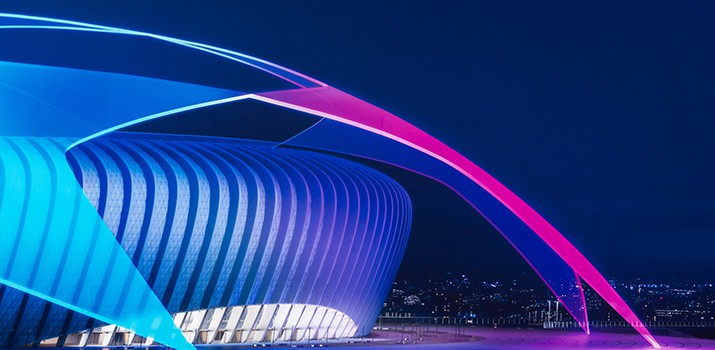 Betting on La Liga extends beyond merely wagering on the league's champion. It also offers the chance to bet on which clubs will secure a place in the Champions League for the 2024-2025 season. In La Liga, not only the winners but also the teams finishing second, third, and fourth qualify for the Champions League. For these prestigious four spots, our prediction sees Real Madrid, FC Barcelona, Atlético de Madrid, and Real Sociedad emerging as the top 4 contenders.
Real Madrid leads the pack as the anticipated Spanish champions, according to our prediction. Close on their heels, FC Barcelona's Blaugranas and Atlético de Madrid's Colchoneros, who have consistently proved their mettle in recent years, are expected to claim their places in the top 4 as well. The race for the fourth and final qualifying position will likely ignite a thrilling contest among teams like Sevilla, Villarreal, and Real Sociedad. However, we anticipate Real Sociedad will clinch the fourth spot. The Basque club has been on an upward trajectory in recent years and already secured this position last season, lending credibility to our forecast.
Engaging in La Liga betting provides an exciting opportunity to capitalize on these insights and more, as the battle for the Champions League spots unfolds over the season.
La Liga prediction – odds on the favorites for a place in the Top 4
Real Madrid – 1.07
FC Barcelona – 1.10
Atletico Madrid – 1.40
Real Sociedad – 2.88
Seville – 3.25
Villarreal – 3.50
Athletic Bilbao – 4.33
Real Betis – 8.00
Osasuna – 11.00
Celta Vigo – 17.00
Which La Liga team will qualify for the 2024-25 Europa League?
In Spain's La Liga, two positions qualify for the UEFA Europa League for the 2024-2025 season. Besides the Spanish Cup winner, the team finishing fifth in La Liga will secure a spot in the Europa League. The competition for this coveted place is likely to be intense, with clubs like Sevilla and Villarreal expected to be in the running, and Betis may well join the fight.
Predicting the exact outcome for August 2023 is challenging, but current analysis points to one of these contenders securing a top-five position in La Liga. Among them, Villarreal, often referred to as the "Yellow Submarine," seems to be a promising candidate. Based on our insights, the prediction for the top 5 in La Liga for the 2024-2025 season is: Real Madrid, FC Barcelona, Atlético de Madrid, Real Sociedad, and Villarreal.
Relegation predictions: which La Liga club will finish in the bottom three?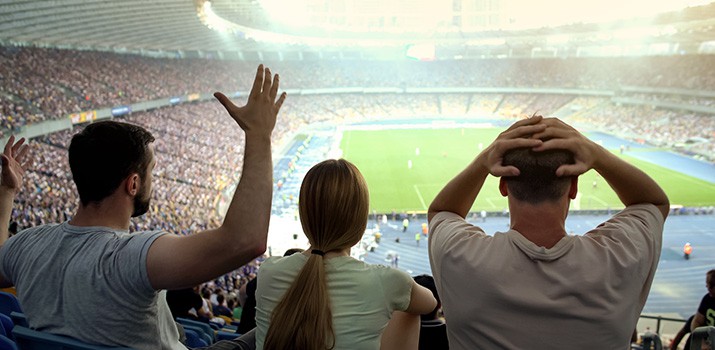 Further down the standings, the fight to avoid relegation to La Liga 2 is shaping up to be a gripping struggle for several clubs. Fans are anticipating a showdown as dramatic as last year when the battle went down to the wire on the final day of the season. To reiterate, the clubs that finish in the 18th, 19th, and 20th positions at the season's end will face relegation to the second division for the 2024-2025 campaign. This demotion will, once again, affect several Spanish football clubs in what promises to be a tense race to stay in the top flight. Based on our analysis and predictions, Las Palmas, Cadiz, and Alavés are the teams we anticipate will be relegated to La Liga 2.
La Liga prediction – relegation odds
Las Palmas – 2.00
Cadiz – 2.37
Alvaves – 2.5
Almeria – 3.00
Granada – 3.25
Mallorca – 3.50
Getafe – 3.75
Rayo Vallecano – 5.00
Girona -5.00
Celta Vigo – 6.00
Valencia – 7.00
Osasuna – 9.00
Sevilla – 10.00
La Liga top scorer prediction 2023-2024: which player will score the most goals?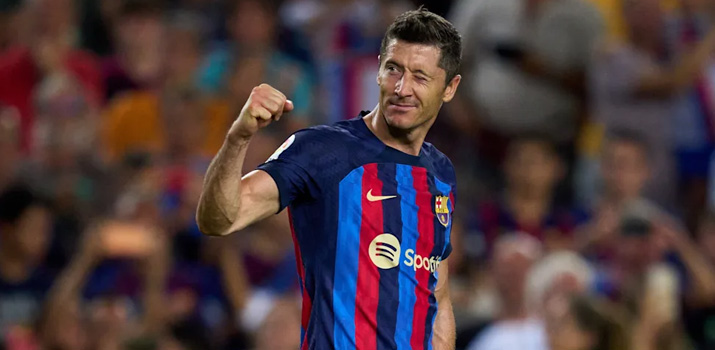 In addition to team-based bets, La Liga also offers the opportunity to place wagers on individual players, such as predicting the top scorer for the 2023-24 season. However, caution is advised at this stage, as the transfer window remains open. New signings may still join La Liga clubs, and top strikers could leave, affecting the odds.
Last season's top scorer, Poland's Robert Lewandowski, who netted 23 goals in his debut La Liga season, is expected to be a strong contender for the honor again in the 2023-24 campaign. But will there be more top strikers joining the ranks in La Liga? For instance, Real Madrid is reportedly on the hunt for a player to fill the void left by Karim Benzema. Could that player be someone as prominent as Kylian Mbappe? The answer to this and more will become clear once the summer transfer window closes. Be sure to check back for our adjusted predictions, reflecting the final roster changes, to inform your La Liga betting strategy.
La Liga prediction – top scorer odds
Robert Lewandowski (FC Barcelona) – 1.57
Antoine Griezmann (Atletico Madrid) – 13.00
de Goes Rodrygo (Real Madrid) – 17.00
Jose Vinicius Junior (Real Madrid) – 17.00
Alvaro Morata (Atletico Madrid) – 21.00
Borja Iglesias (Real Betis) – 21.00
Mato Josélu (Real Madrid) – 21,00
Alexander Sorloth (Villarreal) – 26.00
Raphael Raphinha (Barcelona) – 26.00
A Beginner's Guide to Understanding La Liga
Are you new to sports betting and wondering how Spain's top division football league, La Liga, operates? You've come to the right place!
La Liga represents the pinnacle of Spanish football and comprises the top 20 clubs in the country. These teams compete against each other, both at home and away, creating a thrilling and competitive environment. Over the course of the season, each club plays 38 matches, resulting in a total of 380 games across the entire fixture list.
The stakes are high, with much to gain and lose at the end of the championship. From prestigious accolades and lucrative financial rewards for the top finishers to the disappointment of relegation for those at the bottom, the outcomes are significant.
This intense competition and high stakes are part of what makes betting on La Liga matches such an appealing endeavor for football enthusiasts. The love for the game, combined with the strategic opportunities to place bets, fuels a popular pastime that keeps fans engaged and invested in the league's twists and turns. Whether you're rooting for the title contenders or watching the nail-biting relegation battles, La Liga offers something for everyone.
Tips from our Experts to bet on La Liga
Interested in accurately predicting the outcomes of La Liga matches? Achieving success requires not only a thorough understanding of Spain's top league but also the application of shrewd betting strategies. As seasoned experts with deep knowledge of La Liga, we at SportyTrader are delighted to share essential insights and recommendations for crafting precise predictions:
1. Evaluate the Form of Each Team
Analyze recent performances, results, and vital statistics. For instance, if Barcelona hasn't secured a win in five matches while Valencia boasts a six-game unbeaten streak, a draw or Valencia win might be a savvy bet. Examine the scores, goals, home or away form, and other factors to sharpen your predictions.
2. Inspect the Clubs' Fixture Lists
Teams' schedules and match frequency can influence performance. If Atletico Madrid is balancing La Liga with Champions League commitments, they might rotate players. Conversely, a team like Sevilla, not burdened by European matches, might have fresher legs. Assess the line-ups and packed schedules before placing a bet.
3. Check the Absentee Lists
A team missing key players due to injuries, suspensions, or other reasons might falter. A club without its star striker or experienced goalkeeper could struggle. Understanding these significant absences can safeguard your bet from unexpected losses.
4. Assess the Psychological Context
The mental dynamics of a match can have profound effects. Be mindful of intense rivalries, press conference statements, the importance of the game, and other elements that can shape performance. High-stakes matches may see fewer goals, and a team with no pressure might field a surprising line-up. Analyzing these details can be crucial.
5. Examine Recent La Liga Statistics
Informed analysis of league statistics leads to wiser betting. If Real Madrid's games consistently feature goals from both sides, that pattern may persist. Utilize a range of statistical insights to inform your bets, and consider leveraging welcome bonuses from reputable bookmakers.
By keeping these key considerations in mind, you can approach La Liga betting with greater confidence and insight. Whether you're a novice bettor or a seasoned pro, these strategies can help you navigate the exciting and complex world of La Liga football predictions.
Mistakes to Avoid in Making La Liga Predictions
When placing bets on Spanish La Liga matches, some common mistakes can lead to unsuccessful predictions. Whether you're a beginner or a seasoned punter, avoiding these pitfalls is crucial to maximize your chances of success. Here are the key bad habits that you must steer clear of when betting on a La Liga match:
Currently, too many bettors, regardless of their experience level, fall into these traps. They end up losing bets and stakes because they either consciously or unconsciously adhere to one or more of these detrimental practices. Don't follow in their footsteps! If you're looking to place bets on the 2023/2024 La Liga season, make it a priority to eliminate these bad habits from your betting strategy. Your success in predicting La Liga outcomes will depend on it!
Predicting La Liga: Essential Statistics to Consider
To fine-tune your La Liga betting strategy, understanding essential statistics from Spain's top-flight football league is paramount. Here are the key numbers to consider for your La Liga predictions, drawn from the most recent season of the competition (2022-2023):
Home wins: 47%
Draws: 24%
Away wins: 29%
Average goals: 2.51 goals per game
+1.5 goals : 71%
-1.5 goals : 29%
+2.5 goals : 48%
-2.5 goals : 52%
+3.5 goals : 23%
-3.5 goals : 77%
"Both teams score : yes" : 44%
Away goal : 67%
Victory by a margin of 2 goals or more (handicap): 31
Exact score 0-0: 7% of matches
Most frequent score: 1-0 (23% of matches)
Bonus Tiime Conclusion
In conclusion, successfully betting on La Liga matches requires a thorough understanding of the league, in-depth analysis of team form, and keen awareness of essential statistics. By avoiding common pitfalls and applying strategic insights, bettors can significantly increase their chances of making accurate predictions. As the 2022-2023 season unfolds, staying informed and adaptable will be key, whether you are a newcomer to the betting world or an experienced punter.
These guidelines offer a valuable foundation for navigating the thrilling and complex landscape of La Liga football. Equipped with this knowledge, you are better prepared to engage in one of the most popular betting arenas in the world of football. Happy betting, and may your predictions for the season ahead prove to be both exciting and rewarding!
You can also play Bonus Tiime Free Bet Tournament to test your skills and to try to win a share of the €150 weekly cashprize before engaging reel money.
Frequently Asked Questions about The Ultimate Bet Guide for La Liga Season 2023/2024
What are some key factors to consider when making La Liga predictions?
You should evaluate each team's form, clubs' fixture lists, absent players due to injuries or suspensions, the psychological context of the match, and the latest La Liga statistics.
Can I rely only on a club's reputation for betting?
No, relying solely on a club's reputation without considering its current form and other vital factors can lead to errors in betting.
Why is the fixture list important in making predictions?
The fixture list helps to gauge the playing schedule of a team, and whether they might rotate their squad, significantly affecting the game's result.
How can the psychological context of a match influence its outcome?
Factors such as rivalry, pre-match statements, and high-stakes games can mentally impact teams and players, altering the match's result.
Should I bet on boosted odds without analysis?
No, thorough analysis is necessary even if the odds are boosted, as it allows for a more educated betting decision.
Is it wise to consistently bet on my favorite team?
Betting solely on your favorite team without proper analysis can lead to bias. It's vital to make objective decisions based on the match's actual statistics and facts.
How do statistics assist in making predictions?
Analyzing essential statistics like goals scored, goals conceded, home/away form, etc., can lead to more informed La Liga betting decisions.
What should I avoid when making La Liga predictions?
You should evade common mistakes like failing to analyze the match, overlooking current form, misinterpreting odds, betting on inconsequential matches, attempting to recover losses, and other pitfalls outlined in this article.
Can I bet on a La Liga match at the end of the season?
Yes, but proceed with caution. Matches with little at stake can result in surprising outcomes, necessitating careful analysis.
Where can I find detailed statistics and expert predictions on La Liga matches?
Numerous websites offer comprehensive statistics and expert opinions on La Liga matches. Consulting specialized sports prediction sites like SportyTrader will furnish you with professional insights.