Today marks an exciting day for online gaming enthusiasts as Pragmatic Play, a leading game provider, releases its highly anticipated slot game—Big Bass Hold & Spinner Megaways. With a towering RTP of 96.7%, high volatility, and a max win of 20,000x, this slot game is set to become one of the hottest titles of the year. Keep reading to uncover all you need to know about this thrilling new release!

Big Bass Hold & Spinner Megaways: A Deep Dive into Its Features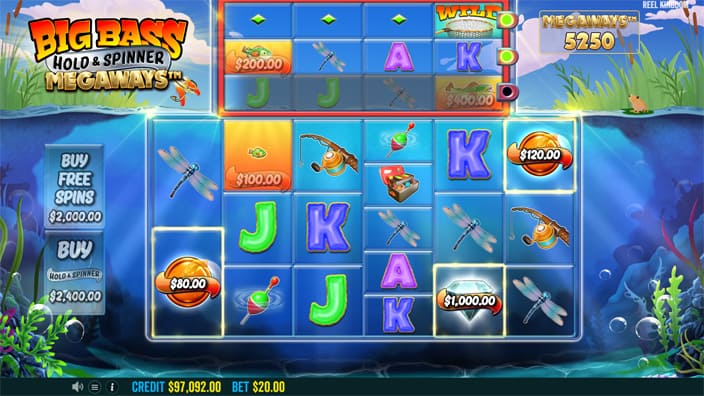 In the vast ocean of online slot games, Big Bass Hold & Spinner Megaways is emerging as a true pearl. With its launch today, the buzz around its features is higher than ever. Let's get up-close and personal with its features and see what sets it apart from the competition.
Impressive RTP and High Volatility
The Return to Player (RTP) rate is a significant metric for determining the potential profitability of a slot game. Big Bass Hold & Spinner Megaways comes equipped with an impressive 96.7% RTP. This higher-than-average RTP gives players better odds of landing a win, a feature that can't be ignored when choosing a slot game.
Additionally, the game's high volatility ensures that while wins may come less frequently, when they do, they're more likely to be significant. In other words, for those who are willing to face higher risks, the rewards promise to be substantial.
Enormous Max Win Potential
The max win capability is another crucial aspect for evaluating a slot's attractiveness. With a staggering max win of 20,000x, Big Bass Hold & Spinner Megaways stands out as a game with huge potential. It means that a single lucky spin could catapult you into a different financial stratosphere.
This incredible max win multiplier puts Big Bass Hold & Spinner Megaways on par with some of the most lucrative slots in the industry. The fact that the game offers this alongside a high RTP further augments its appeal.

Popularity Soars Since Release Date
Even though the game was released today, the 28th of August, 2023, the initial indicators suggest it's destined to make waves. Let's take a look at its initial surge in popularity and how it aims to maintain this momentum.
Immediate High Demand
Right out of the gate, Big Bass Hold & Spinner Megaways has witnessed a surge in demand. Gamers have been flocking to various online casinos offering this title, thanks in part to Pragmatic Play's strong reputation for creating engaging, high-quality games.
Given its impressive specs and the buzz created by promotional campaigns and social media teasers, the game has already achieved "Very High" popularity levels. The initial response serves as an indicator of the slot's potential longevity in the market.
Sustaining Popularity Through Player Engagement
It's one thing for a game to achieve immediate popularity; sustaining it is another challenge altogether. Pragmatic Play has a history of keeping players engaged with updates, bonuses, and unique game mechanics. This suggests that Big Bass Hold & Spinner Megaways is likely to remain in the spotlight for some time to come.
Considering the game's high volatility and the potential for enormous wins, it's safe to say that this title will keep attracting seasoned gamers looking for a rewarding experience.

Bonus Tiime Conclusion
Big Bass Hold & Spinner Megaways is a powerhouse of a slot game, boasting an excellent RTP, high volatility, and a colossal max win multiplier. Released today, its soaring popularity signifies that it's all set to be one of the top games of 2023. With Pragmatic Play at the helm, you can expect nothing but top-notch gaming experience. Don't miss out—dive deep into this new offering and fish for those big wins!