If you're on the hunt for an exhilarating online slot experience that dances to a different beat, DJ Psycho is calling your name. In this in-depth review, we'll dive into the details of this medium-volatile, cluster-paying slot that's already making waves in the casino world.
Dive into the Sound Waves of DJ Psycho
A Symphony of Special Symbols
The colorful and engaging visuals of DJ Psycho's slot design isn't the only thing that will capture your attention. Nolimit City has composed an array of special symbols, each with its own melody of gameplay twists. From transforming symbols to wild multipliers, DJ Psycho offers a symphony of special features that keeps players entertained spin after spin.
Let the Beats Guide You to Big Wins
DJ Psycho is not just a game; it's an interactive DJ party that rewards you with every beat drop. With unique features like GEEZ Spins and Psycho Spins, players can ride the rhythm to huge wins. The pulsing music and hypnotic visuals combine to create an immersive experience that transports players to a virtual dance floor where the potential for massive payouts is always in the mix.
What we Like in Dj Psycho
DJ Psycho isn't just another slot game; it's an electrifying ride through a world filled with beats, lights, and innovative gaming features. Whether you're a casual player or an avid gambler, DJ Psycho has something to offer that sets it apart from the usual slot experience. Below, we've broken down five key elements that make DJ Psycho a must-play game, uniquely crafted by Nolimit City. Let's take a closer look at what makes this slot truly one-of-a-kind:
Innovative Gameplay Mechanics
Dynamic Visuals and Sound
Various Betting Options
Rich Feature Selection
Accessibility and Configurations
A Unique Gameplay Experience with DJ Psycho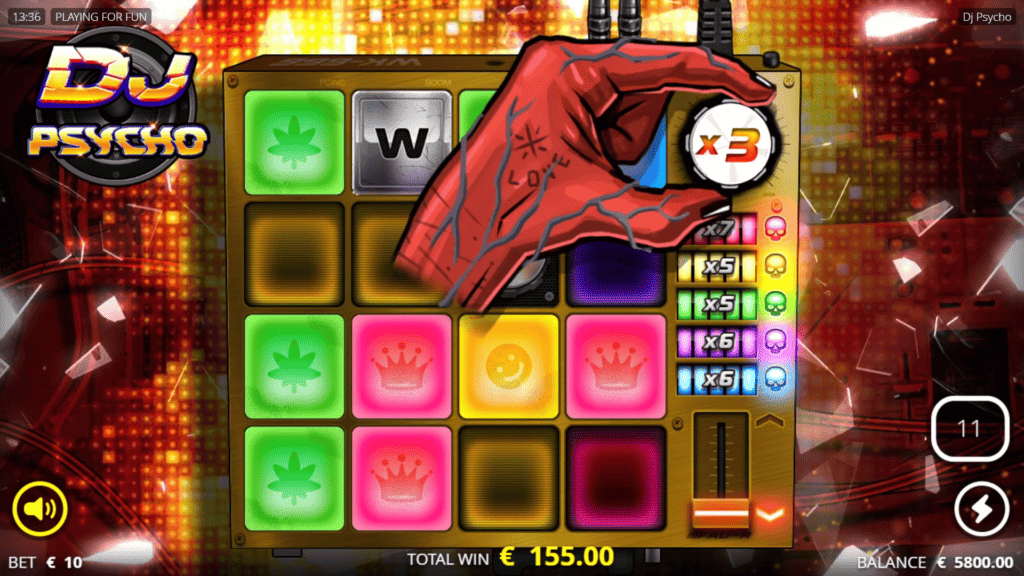 The first thing you'll notice about DJ Psycho is its 4×4 grid. Resembling a Simon memory game, it stands out with brightly lit squares and a 420-themed design. But don't be distracted by the DJ detritus around the grid; it's all about the sound and the gambling with DJ Psycho!
Wins are created when at least three matching symbols land horizontally or vertically, followed by the destruction of the winning cluster. Surprisingly, DJ Psycho rocks a medium volatility and offers three RTP configurations, ranging from 96.01% to 96.05%.
Betting Range and Unique Features
With bets ranging from 20c to €100, DJ Psycho provides a unique Boosted xBet feature that can increase the stake by 235%. This makes triggering the exciting GEEZ Spins and Psycho Spins even more likely, taking the fun to new levels.
Regular pay symbols, wild symbols, and a payout potential ranging from 0.05 to 1,271 times the bet offer an engaging experience. But the real fun starts with DJ Psycho's exclusive features.
Special Symbols and Bonus Features
DJ Psycho packs a punch with a set list of special symbols including:
Crossed Symbols: Transforming medium and low pay symbols.
Break Symbols: Enhancing adjacent symbols' value.
Bite Symbols: Creating extra value diagonally.
Drop Symbols: Transforming a path between two symbols.
xKnob and xBPM Symbols: Turning wild and multiplying values.
A Beat Bar that tracks progress, GEEZ Spins, PSYCHO Spins, and the Nolimit Bonus offer a rhythm-packed adventure with huge winning potential.
Geez and Psycho Spins
Trigger Geez Spins by reaching an x3 multiplier on the Beat Bar, and if you achieve x5 multipliers for all colors, you'll unlock the thrilling Psycho Spins, offering yet another layer of engagement.
Buy Features with Nolimit City Bonus
From the feature buy menu, players can purchase Geez Spins, Lucky Draw 1 and 2, or Psycho Spins for up to 420 times the bet, with RTPs ranging from 96.2% to 96.33%.
Bonus Tiime Conclusion
Nolimit City has truly outdone itself with DJ Psycho. This game isn't just a slot; it's an immersive DJing experience that offers something different for fans of cluster pays slots. Though it might seem complex at first, the surprises it packs are well worth exploring.
With a win potential of 25,420x the bet and an array of innovative features, DJ Psycho isn't just another game; it's an entirely new dance floor to conquer. Whether you're a fan of The Rave or looking for something fresh, DJ Psycho has the beats and the wins to keep you spinning.
Discover DJ Psycho today, and let the rhythm of wins guide you to a unique slot experience you won't find anywhere else.