Presentation of the wheel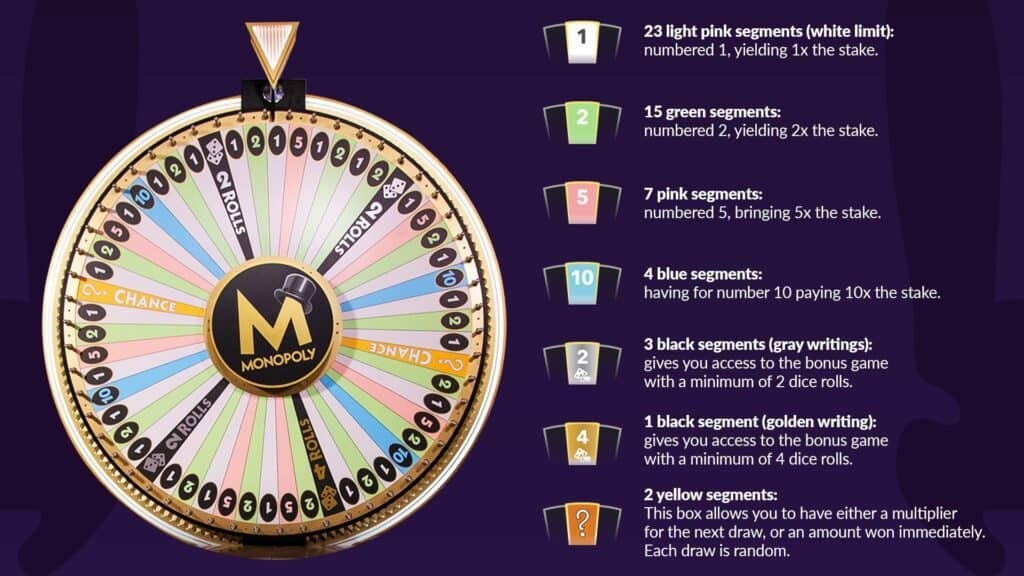 The wheel has a total of 54 segments, details of which are below:
23 light pink segments (white limit): numbered 1, yielding 1x the stake.
15 green segments: numbered 2, yielding 2x the stake.
7 pink segments: numbered 5, bringing 5x the stake.
4 blue segments: having for number 10 paying 10x the stake.
3 black segments (gray writings): gives you access to the bonus game with a minimum of 2 dice rolls.
1 black segment (golden writing): gives you access to the bonus game with a minimum of 4 dice rolls.
2 yellow segments: This box allows you to have either a multiplier for the next draw, or an amount won immediately. Each draw is random.
Progress of a game
1️⃣ First step: You will have to bet as you see fit on one of the 6 boxes. The authorized bets range from €0.10 to €2,500.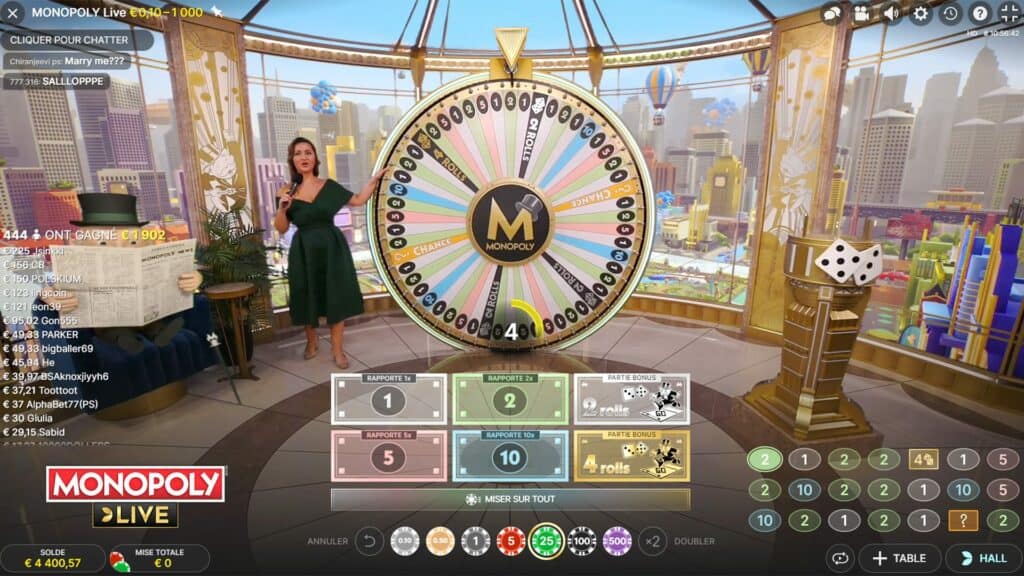 2️⃣ Second step: If the wheel stops on one of the following 4 boxes, 1, 2, 5, 10, you will win the amount associated with the multiplier. Obviously, for that, it will have been necessary to bet on this box beforehand. If the wheel stops on one of the "Chance" boxes, you will win either the designated amount or a multiplier on the next spin of the wheel. If it stops on one of the "2 rolls" or "4 rolls" boxes, go to step three.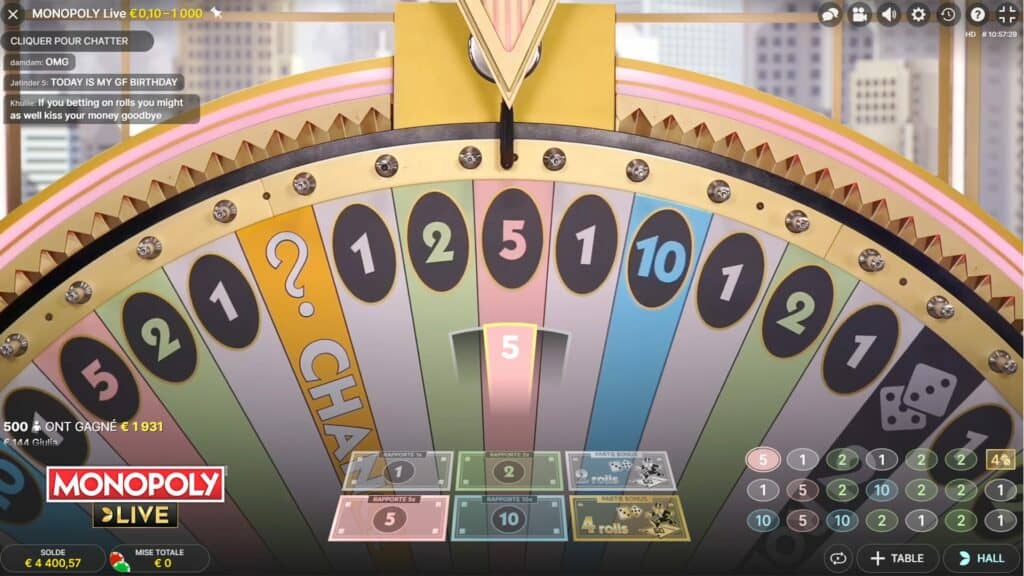 3️⃣ Third step: It is objectively the most sought-after step by players since it is here that Mister Monopoly makes its entry into the augmented reality world. All players who played on "2 rolls" or "4 rolls" will be able to win the amount indicated at the end of the game.
When entering the board, random multipliers are placed while circling the board in a dynamic and pleasant to watch animation. The further up the board you go, the higher the multiplier will be.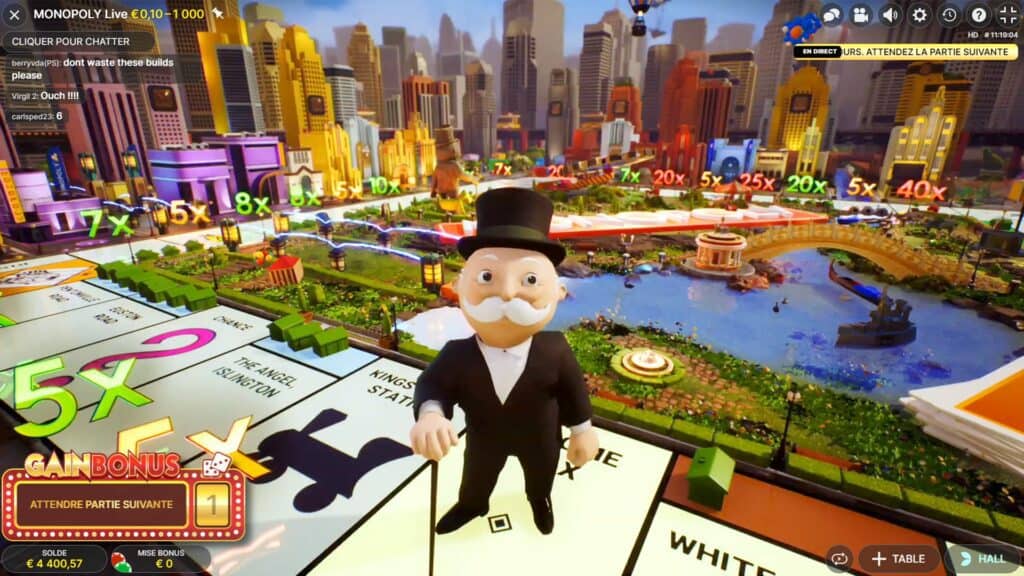 If you came across "2 rolls", this will allow you to roll the dice at least twice, for "4 rolls", it will also be 4 times minimum. If you do any double you will get an extra turn.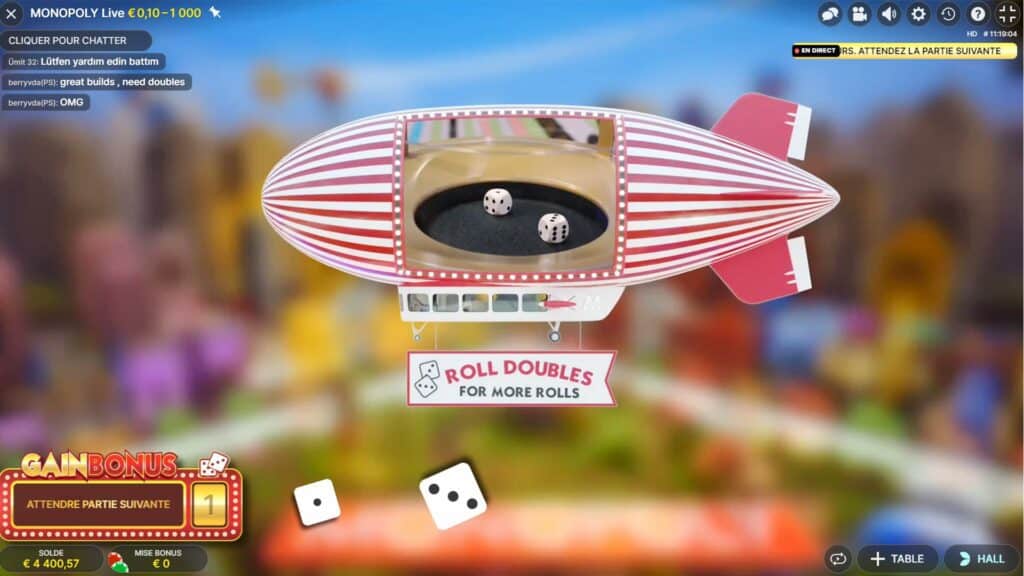 The game ends when all of your dice rolls have been completed. You will win the prizes associated with you and you will be ready to play a new game. Note that the maximum amount you can win is €500,000.
Where you can play Monopoly Live?
You can play Monopoly Live on Stake, Cresus and LuckyLuke, the 3 sites mentioned are also available on mobile and tablet versions as well.