Which casino can I play Lightning Dice at?
You can play Lightning Dice on Stake, Cresus and LuckyLuke, the 3 sites mentioned are also available on mobile and tablet versions as well.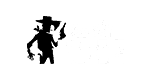 How does Lightning Dice work?
It's a very easy game to understand, it's simple and intuitive, it will take you a few rolls of the dice to learn how to play it. The goal of the game is to bet on 16 different outcomes, from 3 to 18. The 3 is the smallest possible outcome with his triple 1 and the 18 is the highest possible outcome with his triple 6. Those are the 2 outcomes that pay off the most, with x150 your initial bet, because it is also the 2 hardest results to obtain.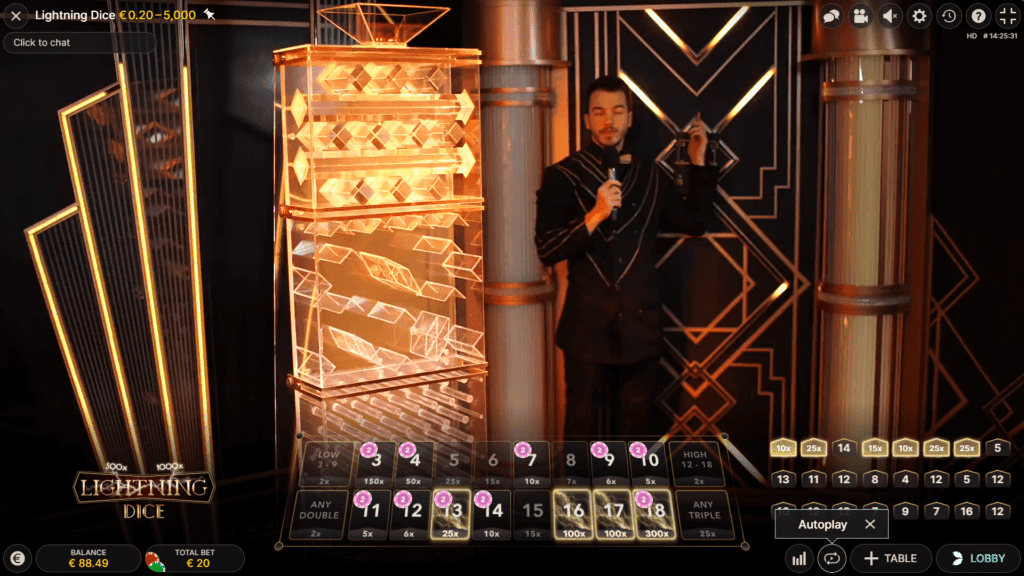 Here is a chart with every multiplier:

If you don't want to bet on a specific number, like the 17 which pays x50 your bet, you can bet on a low result (result between 3 and 9) or a high result (a result between 12 and 18) your winning potential will be x2 your bet.
Once your bet has been placed, the Evolution Gaming host activates the Lightning feature, which consists of choosing between 2 or 3 numbers that will receive a random multiplier ranging from x5 to x1000 max. The 3 dices then go down like a Pachinko, so they will go down in a random way, bouncing on the transparent edges of the machine, once they reach the bottom, the sum of the 3 dices gives the winning.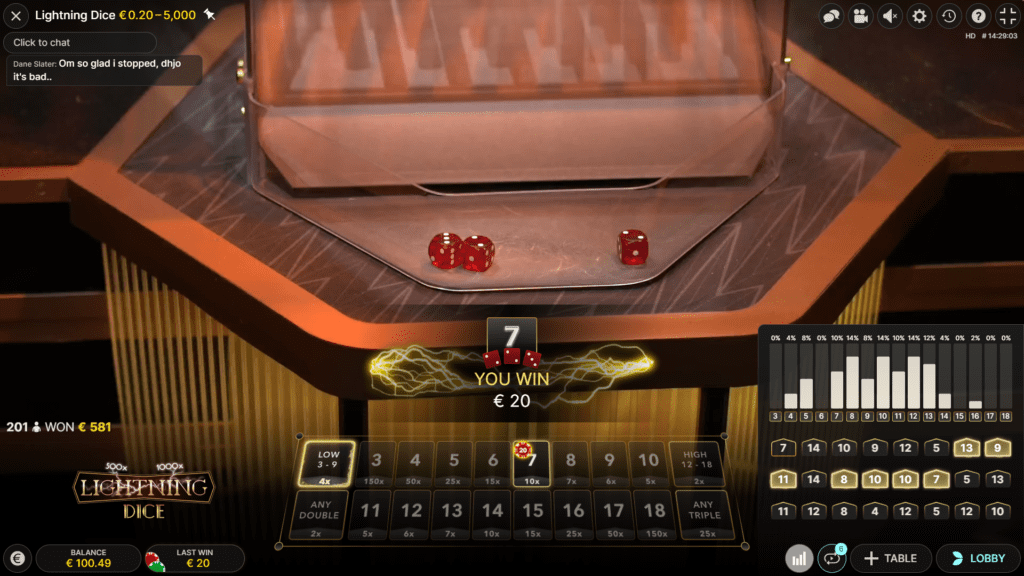 What are the minimum and maximum bet for the Lightning Dice?
The minimum bet is €1 and the maximum bet is €2,000 for every dice throw.
What are the strategies and tips for Lightning Dice?
As all casino games, Lightning Dice is based on luck, you cannot influence the result of the game. But you can optimize the way you play and bet with tips and strategies to play smarter.
The closer you get to 3 and 18, the higher is the volatility, so it is important to take a few numbers between these two to have a better chance of repaying your initial bet. For example, you can bet on 3 and 18 which will make you win x150 your initial bet and take the number 10 and 11 which will pay back x5 your bet. It is a good compromise between volatility and a safer game, as the probability that the number 10 and 11 lands is quite large hence its low multiplier, while the number 3 and 18 are rare but if they land it, is huge multiplier.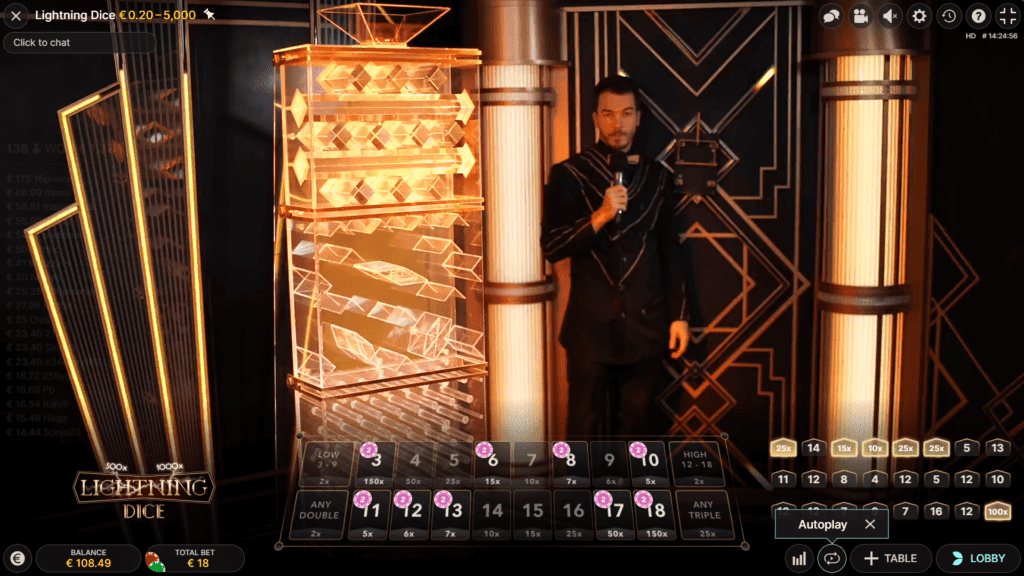 Our opinion on Lightning Dice
Lightning Dice is a fun game to play, you can play it safely or if you are feeling lucky you can play it very volatile. What makes this game so exciting is the Lightning side, even if you bet on a number with a high probability to get it, you can have a big multiplier on it thanks to the Lightning feature.
Conclusion
It's a simple and intuitive game, in a classy and electric black and gold setting that makes the player experience enjoyable. Whether you play it safe or risky, the game offers you all kind of varied stakes and risks.