Which casino can I play Dragon Tiger at?
You can play Dragon Tiger on Stake, Cresus and LuckyLuke, the 3 sites mentioned are also available on mobile and tablet versions as well.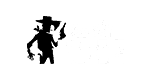 How does Dragon Tiger work?
Released in 2018 by Evolution Gaming, Dragon Tiger is one of the live casino games that has attracted the most players thanks to its simple and intuitive principle. Whether you are a beginner or an experienced player, the game is designed for every kind of players.
At the beginning of a game, the dealer draws 2 cards, you will have to choose which of these 2 cards will be the highest for you. You can also choose tie option if you think that the 2 cards drawn will be the same.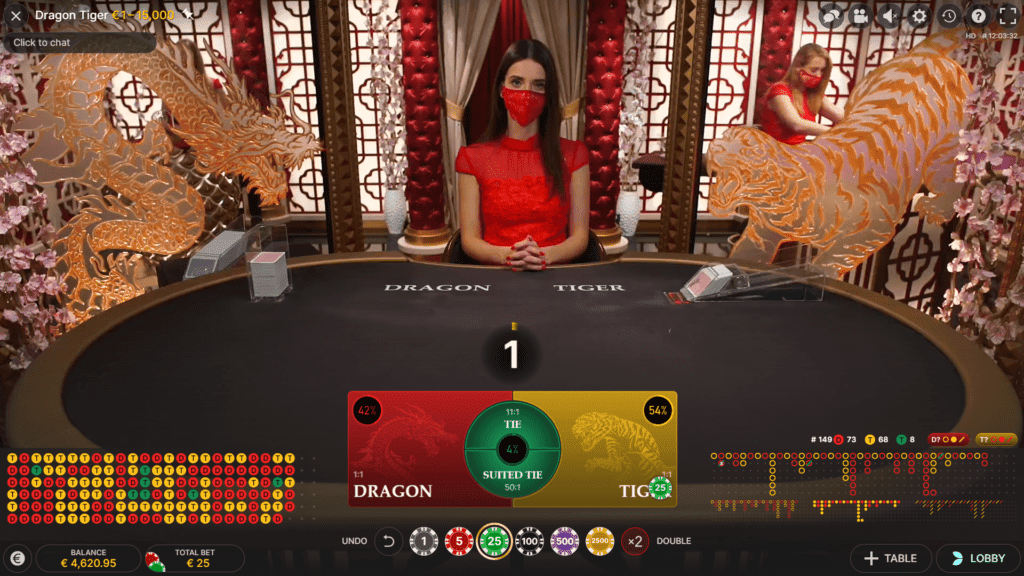 If you choose the Dragon side and the highest card is on the Dragon side you win twice your initial bet, if unfortunately, the highest card fell on the Tiger side you lose your initial bet.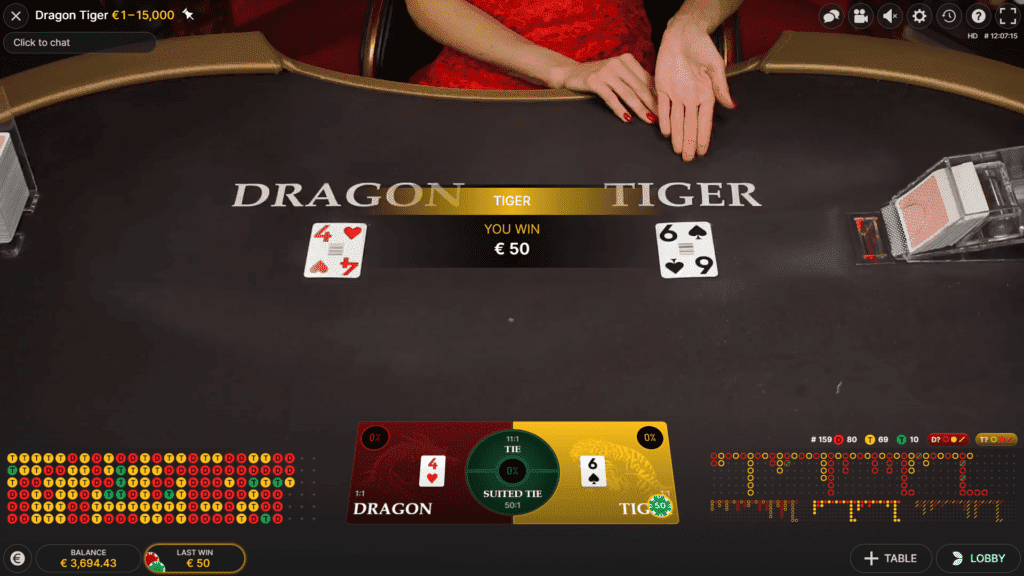 What are the RTP's?
RTP is 96% if you bet on Dragon or Tiger sides, you gain 2x your bet if you win.
RTP is 89% if you bet on draw, you gain 11x times your bet if you win.
Card games are regulated by government agencies like UK Gambling Commission, Alderney Gambling Control Commission and Maltese Gaming Authority which guarantees the legitimacy of the game.
What are the strategies and tips in Dragon Tiger?
As all casino games, Dragon Tiger is based on luck, you cannot influence the result of the game. But you can optimize the way you play and bet with tips and strategies to play smarter.
There is no real strategy for Dragon Tiger since it is a coin toss game, except that you are advised to bet 1/10 of your bankroll on the sides bet because betting on Tie or Suited Tie is much more volatile than betting on Dragon and Tiger. So, if for example you want to bet €10 on Dragon, put €1 maximum on Suited Tie.
The only real strategy you can adopt is your money management, so we invite you to check out our article on bankroll management.
General atmosphere of the game
The game evolves in an Asian universe, the elements of the decor are filled with oriental objects and decor, which makes the atmosphere particularly pleasant.
Our opinion on Dragon Tiger
A simple game where players bet on which card will be the highest, in an Asian atmosphere which makes the gaming experience enjoyable.