Which casino can I play Crash or Cash at?
You can play Crash or Cash (Evolution Gaming) on Stake, Cresus and Arlequin, the 3 sites mentioned are also available on mobile and tablet versions as well. How does Crash or Cash work?
This live casino game is quite simple, there is no side bet or special bet, you must choose an amount between €0.20 and €5,000 and bet it in the central case.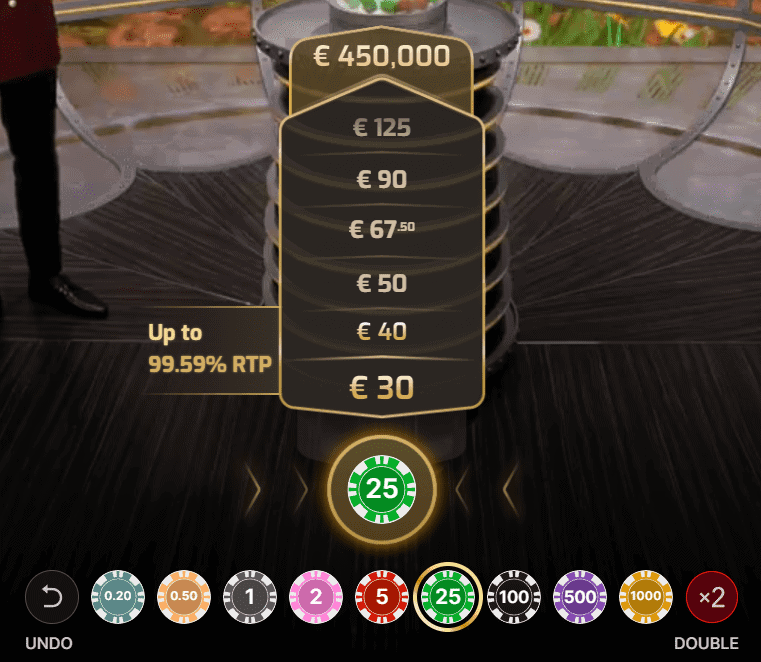 Once your bet placed, the balls draw begins. There are 28 balls including 19 green balls, 8 red balls and 1 golden ball.
At the end of every round, one ball will be drawn through a tube and placed at the center of the game. If the drawn ball is green: The airship will go up to for one floor, so as everyone gain.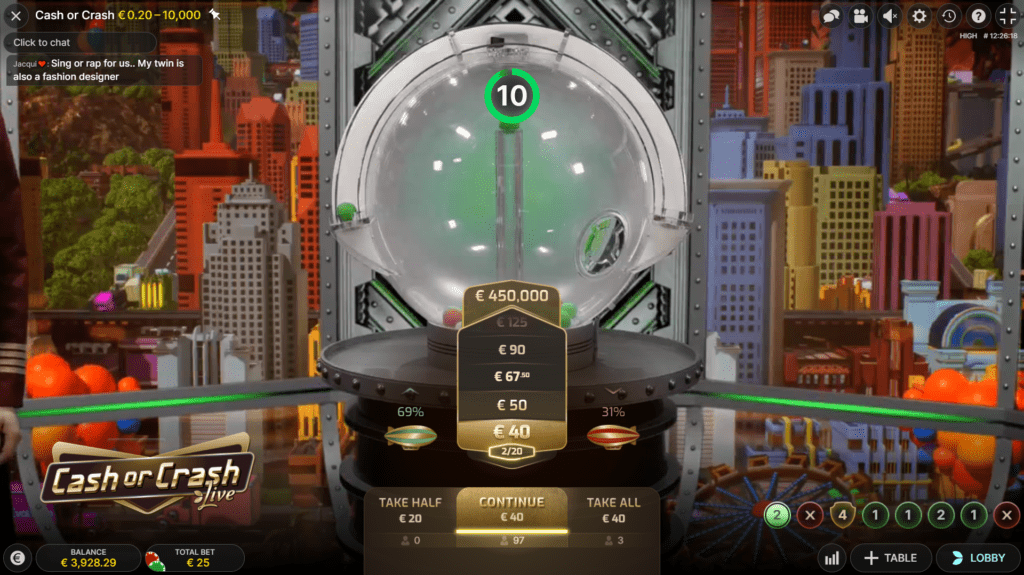 If the drawn ball is red: The game is over, and all bets are lost. You need to anticipate this draw and withdraw your bet at the right time.
If the drawn ball is golden: As the green ball, the airship will go up to for one floor, but you also get a shield that will protect you from a red ball. At the end of every round, you always have three options: Carry on, withdraw 100% of your bet or withdraw 50% and keep playing with 50% of your bet.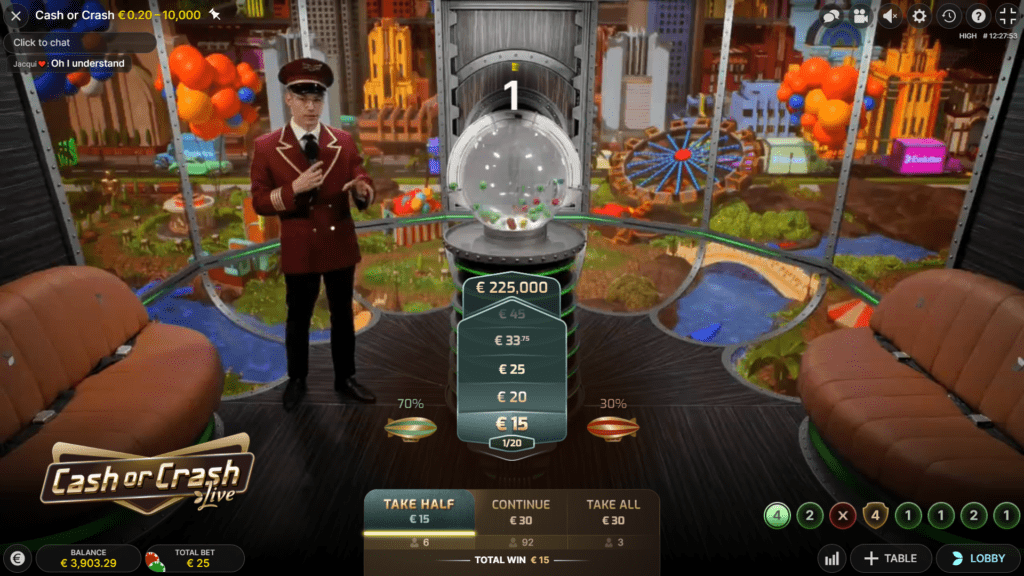 What are the potentials gains?
Stage 1 : x1.2
Stage 2 : x1.6
Stage 3 : x2 / x2.2
Stage 8 : x10 / x10,5
Stage 10 : x21.5 / x24
Stage 15 : x310 / x360
Stage 17 : x1,200 / x1,500
Stage 19 : x6,800 / x11,000
Stage 20 : x18,000 / x50,000
If you reach stage 20 and draw a green ball, you win x50,000 your bet.
What are the strategies and tips for Cash or Crash?
As all casino games, Cash or Crash is about luck, you cannot influence the result of the game. But you can optimize the way you play and bet with tips and strategies to play smarter.
On the first levels you can gamble without taking much risk because there are more green balls than red balls. When you reach the 4th level, we advise you to cash back half of your bet in order to keep half of your current profit.
There is not a lot of strategies in this game, the more you gamble the more volatile you will be, you can quit at any time, so it is important to know when to stop gambling as well.
Our opinion on Crash or Cash
The atmosphere and the visual are well made by of Evolution Gaming, in terms of gameplay, the game becomes very exciting when the golden ball falls or when you reach the top floors.
If you like Cash or Crash don't hesitate to come and read our article on Evolution Gaming's famous Crazy Time.